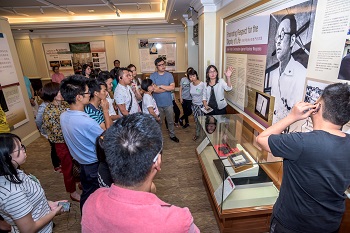 On April 9, SGM Kuala Lumpur held the inaugural Nichiren Buddhism Entrance Course (NBEC) at the SGM Kuala Lumpur Centre (in the Imbi area of KL) and Wisma Kebudayaan SGM (WKSGM). The NBEC is a beginner's introduction to Nichiren Buddhism aimed at new friends and believers who would like to deepen their study of Buddhism and strengthen their conviction in the ideals of Buddhist humanism as espoused by the SGI. The course is held in line with SGM's expansion aims.
The course, conducted in Mandarin and English separately, saw the participation of 117 new friends and believers from the five regions of SGM Kuala Lumpur. At the SGM Kuala Lumpur Centre, the participants learnt about key Buddhist fundamentals such as the ten worlds, the lineage and tradition of Buddhist humanism, the life of Nichiren Daishonin and Nam-myoho-renge-kyo. These topics area based on the Basics of Buddhism in the New Era of Worldwide Kosen-rufu, which is the new Buddhist fundamentals syllabus introduced by the Soka Gakkai in the last two years. In order to illustrate how these principles are actively practised in real life, participants also listened to live experience sharing.
In the Chinese session, Ho Ai Wei spoke about her battle with systemic lupus erythemathosus since her teenage years, recounting her hospitalisation periods, some of which were truly life-threatening. She also spoke of overcoming her initial fear of getting married and building her own family. Through faith, the shared struggle of mentor and disciple and the fervent prayers of her family, in particular her mother, she has forged a victorious path in life and has been happily married for over a decade with a son.
Bernard Leong, at the English session, spoke about forging a successful career in the corporate world by realising the guidance of SGI President Daisaku Ikeda and assiduous human revolution. Though he had faced retrenchment, he always bounced back stronger than before to develop greater conviction in faith.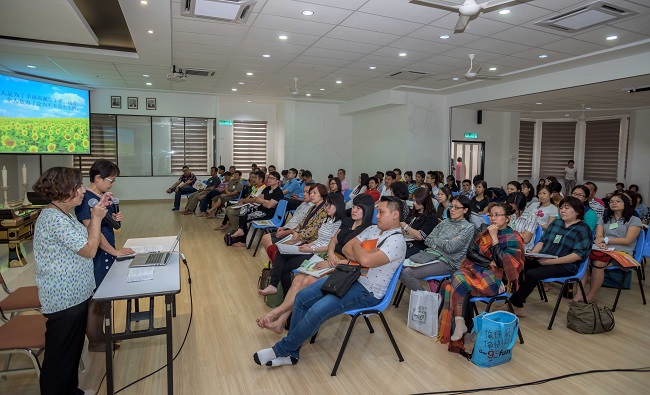 The second part of the course saw the participants moving to WKSGM to learn about the peace, culture and education activities of SGM and the SGI. Here, participants learnt how SGM translated Nichiren's life-affirming philosophy into activities that contribute to the betterment of society and individuals. They later went on a tour of the SGM Mentor and Peace Hall (MDPH) where they gained a greater understanding of the history of the Soka Gakkai and SGI and the global peace-building endeavours of President Ikeda.
At the closing ceremony, participants shared their impressions on the day's course. They expressed positive views of the course and hoped to learn more about the practice in the near future. Two new friends decided to begin practising with SGM after attending the course, deeply inspired by Ai Wei's victorious experience.
The NBEC will be held again in Kuala Lumpur and other states throughout Malaysia in the coming months for the sake of expanding the solidarity of Bodhisattvas of the Earth.