On September 8, 2018 SGM held a lecture on human rights entitled "Towards an Era of Human Rights: Building a People's Movement" at the International Conference Hall in Wisma Kebudayaan SGM. September 8 is also a day of deep significance when second Soka Gakkai president Josei Toda made an impassioned call for the abolition of nuclear weapons to thousands of youth who had gathered at Mitsuzawa Stadium, Yokohama in 1957.
Based on SGI President Ikeda's 2018 Peace Proposal of the same title, the lecture was held in conjunction with SGM's Month of Peace which falls in September. This and other peace proposals explore the interrelation between core Buddhist concepts and the diverse challenges global society faces in the effort to realise peace and human security. The talk was moderated by Prof Dr Christopher Boey Chiong Meng, Vice-president of Soka Gakkai Malaysia. In addition, four youth read out their pledges to abolish nuclear weapons and the audience joined in to read out the youth's vows to take dedicated action to realise these vows.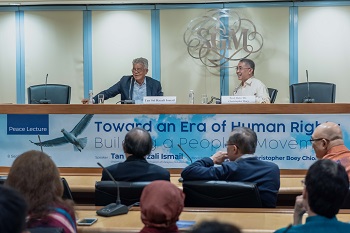 To an audience of 180 people, speaker Tan Sri Razali Ismail, Chairman of Human Rights Commission of Malaysia (SUHAKAM) began by applauding SGI's efforts in promoting peace. Having read President Ikeda's 2018 peace proposal, he was struck by President Ikeda's conviction that the abolition of nuclear weapons has to be carried out and the difficult task can be accomplished.
Following that, he highlighted the plight of the aborigines living in Malaysia whose rights were trampled on and needs neglected due to the small size of their population. He stressed on the importance of their welfare and needs to be looked into by all people, not just the government.
Human rights are not an abstract notion or a set of rules or treaties but an ability to respect everyone while having a strong sense of responsibility. Elaborated in a practical way, Tan Sri Razali made these rights easily understood and gave concrete examples of how these rights can be applied in our daily life.
Among other points he touched on, Tan Sri Razali also mentioned the importance of bringing people together based on a deep understanding that all people are equal, regardless of their ethnicity, profession or races. He totally agreed with one of the global goals listed in the Sustainable Development Goals (SDG) which says that no one is to be left behind. He also urged the audience to realise the importance of voicing out their opinions and insisting on their rights whenever they find something not right.
The talk ended with an interesting question-and-answer session where numerous questions were asked, some of which pertaining to controversial current issues.
Tan Sri Razali had been here at Wisma Kebudayaan SGM on August 9, 2015 when he jointly officiated the exhibition "Everything You Treasure – For a World Free From Nuclear Weapons" and delivered a keynote speech.