Firmly believing that art has the power to bridge peoples and cultures, Soka Gakkai Malaysia (SGM) joined hands with Malaysia Art Society (PSM) and Artdialogo Asia to hold a unique art exhibition entitled "Hues of Happiness" exhibition at Wisma Kebudayaan SGM. Showcasing 46 artworks by 23 artists from seven Southeast Asia nations – Malaysia, the Philippines, Thailand, Indonesia, Brunei, Myanmar and Cambodia. The exhibition ran from November 16 to December 8, 2019.
The exhibition was also part of the result of joined efforts in working on a project named Art Empowerment Project 2019 to spread the positive acts of contributing and empowering people through the arts. Themed "Happiness", this exhibition explored the context and conditions various artists achieved this simple but profound life-state that comes in many different forms. A major prerequisite for entry selection was that the artists must share a common vision in contributing to the community through arts, culture and education. Each artwork vividly captures the artist's personal inspirations, perspectives, stories and acts of kindness that embody happiness.
In welcoming the audience, Dato Chong Khin Sang, SGM General Council Member and Chairman of SGM Negeri Sembilan stated that that happiness is the core of human life which is pursued by all. He elaborated on "relative happiness" and "absolute happiness" as taught in SGM and that the latter comes from within us and can be found by living "with perseverance and hope while struggling with reality."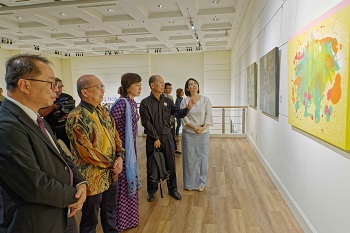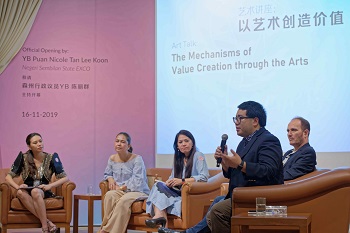 Anna Karina Jardin, founder of ARTDIALOGO Asia and one of the exhibiting artists, also delivered a speech in which she mentioned that Art Empowerment Project 2019 was a manifestation of what good friendships, fortified and nourished by empathy, gratitude and patience, can create. Working together, including some 500 children and youth in the project, "we would be able to magnify the importance of value-creation and develop a commitment in harnessing a more inclusive society through a universal language which is art."
On hand to declare the exhibition open on November 16 was YB Nicole Tan Lee Koon, Negeri Sembilan state executive councillor. In her speech, Nicole was impressed by SGM and found many similarities between SGM and Soroptimist International, a humanitarian service organisation that she is involved with. She emphasised on the importance of such organisations, as they allow us "to foster unity and look for common grounds" instead of focusing on differences. She hoped this exhibition would "bring more hues of happiness to all of us here, in order to make your life worthwhile and to live your life with values."
As suggested by "hues" in the title, the colourful cultural backgrounds and diverse personal experiences of every single artist has led them in creating poetic and picturesque works brimming with a sense of happiness. They have infused their personal inspirations, perspectives, stories and acts of kindness that embody happiness, vividly in their paintings.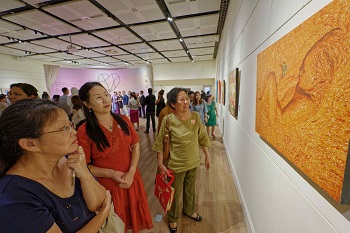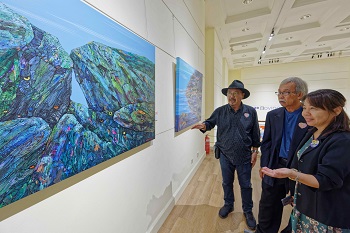 This exhibition also features a special curation showcasing the output and journey of the artists, together with children who participated in the community development programme that was held from February to August 2019.
Various art activities and cross cultural workshops were held together with partners Soroptomist International Seremban, Tuck Sun Logistics, Hartamas Shopping Centre, Damas Suites and Residences and the Rotary Club of Makati Northwest (the Philippines) at different venues. At the same time, an art catalogue entitled "Hues of Happiness – Exhibition by Southeast Asian Artists" was published by PSM.
In addition, a pre-exhibition talk by curator Shireen Lee, one of the participating artists, was held on November 2 at Wisma Kebudayaan SGM. The objectives of the exhibition and the background of the 23 artists were introduced to the audience.  She also said that everyone, regardless of their social status, can contribute to the society with concrete actions. Collectively, the artists had encouraged many people through expanding hopes and courage with their artworks and by going to the grassroots level.