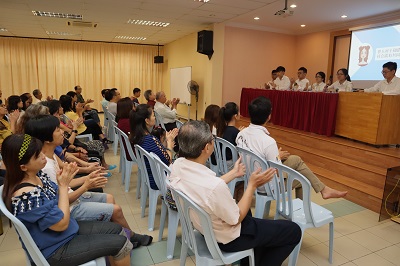 On December 6, 2019, SGM Melaka held the annual presentation of SGI President Ikeda's Peace Proposal. This time, they discussed his 2019 Proposal entitled "Towards a New Era of Peace and Disarmament: A People-Centred Approach" at its culture centre. The presentation was conducted by a panel of six student division members.
The panel discussed topics such as refugee rights, trade disputes, increasing military expenditure, disarmament and nuclear weapons abolition. They also spoke on the various solutions that President Ikeda had proposed which included ways to strengthen the acceptance of the Treaty on the Prohibition of Nuclear Weapons (TPNW), banning lethal autonomous weapons and promoting universities as hubs for achieving the Sustainable Development Goals (SDGs).
Some 100 people attended the presentation, and participants eagerly participated in the question-and-answer session that followed. The presentation helped further spread the understanding of SGM Melaka members towards President Ikeda's peace ideals.