In the Year of Soka Victory (2019), SGM Amala Group members have also striven earnestly on the frontlines of kosen-rufu, and played their part in enabling SGM to achieve a great victory in the 1233 New Dawn Block Campaign. They are determined to once again strive to make SGM victorious in this Year of Advancement and Capable People.
In November and December 2019, SGM Amala Group members in Greater Kuala Lumpur (GKL) and Penang held anniversary celebrations in several locations. SGM General Director Koh Sia Feai wrote a congratulatory message for this occasion in which he thanked Amala Group members for their active participation in SGM's kosen-rufu movement and urged them to help consolidate the organisation through Buddhist study and fostering capable people. He also quoted Soka Gakkai president Minoru Harada's guidance: "Let us proclaim President Ikeda's greatness to the whole world by showing actual proof in promoting worldwide kosen-rufu through advancement and expanding our ranks of capable people." (tentative translation)
GKL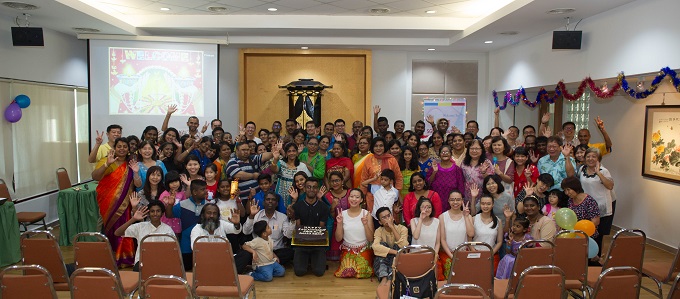 Kuala Lumpur South
General Director Koh attended the celebration held at the SGM Selayang Centre on November 24, 2019. In his speech, he expressed gratitude to Amala Group members for promoting SGM's kosen-rufu activities, in particular the New Dawn Block Campaign and Run for Peace. This celebration was attended mainly by Kuala Lumpur North members, numbering close to 100.
Group members also spoke on Buddhist fundamentals and principles, and a women's division (WD) member Mdm Rajeswari from Rawang shared how through practising Nichiren Buddhism earnestly, she was able to overcome financial difficulties, even though she had just begun chanting.
Members of the youth division and junior division, in particular the young women, put up scintillating performances to the delight of the audience. The junior division in particular stole the show with their vibrant and polished performance that captured the hearts of all present.
A week earlier, on November 17, Kuala Lumpur South Amala members gathered at the SGM Culture Centre, with over 60 Amala Group members and close to 40 SGM members from other groups attending. They shared the successes Amala Group members have achieved in the 1233 New Dawn Block Campaign. Three youths shared their faith experiences alongside two WD members.
Also on this day, another 20 Amala Group members gathered at the SGM Kuala Lumpur Culture Centre to celebrate this anniversary.
Penang
Kuala Lumpur North

Penang
On December 8, some 250 people gathered at the SGM Penang Culture Centre, including guests and new friends. Members from Kedah, Perak and Selangor were also in attendance.
Participants learned about the 30-year history of the Amala Group and its achievements. They also sang "The Song of Human Revolution" and discussed the serialised novel The New Human Revolution. A section on chanting Nam-myoho-renge-kyo was also presented for the new members and guests present. Three men's division members namely, Ramachandran, Krishnan Kumar and Rajagogulabalan shared their faith experiences after an energetic performance by members of the youth and junior divisions.
In conclusion, Penang state vice-leader Lee Kam Heng stressed on the great power of Nam-myoho-renge-kyo and that, through our sincere and diligent faith and practice in the Nichiren Buddhism, no prayers will go unanswered. He also stressed, "Let's us all get along well with each other and work together harmoniously for sake of kosen-rufu."