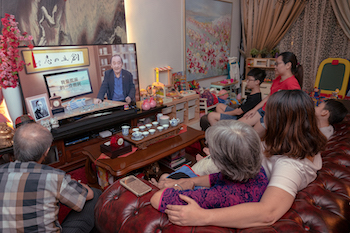 On June 21, 2020, SGM General Director Koh Sia Feai conducted a nationwide online study meeting entitled "Tsunesaburo Makiguchi: Great Man of Our Time." Mr Makiguchi was the first president of Soka Gakkai. June 6, 2020 is the 149th anniversary of his birth.
Mr Koh first introduced the background and education career of Mr Makiguchi and his practice of Nichiren Buddhism. He said that Mr Makiguchi was a person who had a great great appetite for learning, embraced others with boundless warmth and always stood up for justice. Mr Koh further mentioned that his three great achievements were founding the Soka Gakkai; writing the revolutionary work Soka Kyoikugaku Taikei (The System of Value-Creating Pedagogy) and protecting the purity of Nichiren Buddhism.
Lastly, Mr Koh concluded that Mr Makiguchi was a person who had fought with his life to defend humanity and peace, an educational reformer who upheld value creation, and a religious figure who died upholding Buddhism. Mr Makiguchi was also "a towering example of a person who has dedicated his life for the sake of education and religion." He will live forever in the hearts of Soka Gakkai members and people the world over.
In total, the study meeting received 10,748 views.