The Malaysian Institute of Art (MIA), a leading art institute in our country, celebrates its golden jubilee this year. Over the half-century, it has graduated over 7,000 alumni, many of who are making waves in the art world locally and abroad.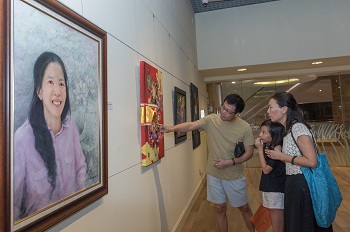 To celebrate this significant anniversary and achievements of this venerable institute, the MIA Alumni Association (MIAAA) and SGM co-organised the "Journey 50 MIA Alumni Association Exhibition 2017" art exhibition at Wisma Kebudayaan SGM from October 7 to 22. The exhibition featured 76 works MIA alumni in a wide variety of media, such as oil, ink-on-paper, watercolour, wood and photography.
The exhibition was officially opened by YBhg Prof. Dato Dr Mohamed Najib bin Ahmad Dawa, Director General, National Visual Arts Development Board. Many prominent Malaysian artists were graced the opening, such as Dr Cheah Tien Soong, Peter Liew, Dr Choong Kam Kow, Dr Foo Yong Kong, Sivarajah Natarajan, Norlisham Selamat (who is also senior lecturer at MIA's Visual Communication department).
SGM General Director Koh Sia Feai praised the efforts of MIA and MIAAA in producing artists who are committed to creating inspiring art. Their efforts resonate with that of SGI President Daisaku Ikeda who believes that education should be sake of the happiness of humanity.
MIAAA president Lim Kean Huat praised the efforts of the artists who contributed to the success of this exhibition He noted that three generation of artists were involved in making this event a reality.
In his speech, Datuk Dr Mohamed Najib stated that art plays a pivotal role in the development of society and praised the efforts of the MIAAA and SGM in holding this exhibition to promote art. He also noted the friendship between SGM and MIAAA that has existed since 20008, which led to this exhibition today.
Art talks
On the first day of the exhibition, three renowned Malaysian artists gave talks on art and creativity at the International Conference Hall of WKSGM. The artists were Dr Choong Kam Kow, Chairman, Federation of Asian Artists, Malaysia Committee; Khong Miaw Leong, renowned photographer, and Dr Cheah Tien Soong, prominent Malaysian artist.
| | | |
| --- | --- | --- |
| | | |
| Choong Kam Kow | Khong Miaw Leong | Cheah Tien Soong |
| | | |
In the first talk, Dr Choong gave a talk titled "Creative Thinking, Expression and Art Appreciation." He said that true Malaysian art must be able to harmonise the various cultures and peoples. He urged the listeners to find their own art perspective and seek to promote harmony.
In the second talk, "Photography and I", Khong spoke of his experience in photography, stressing that each photo has value. Portraits and photos of buildings have contemporary and historical value, and is a representation of society.
In the final talk, Dr Cheah spoke about the significance of the Nanyang art form, stating that it is a new form of cultural expression that was born through the intersection of artistic techniques and the diversity of culture in Southeast Asia.