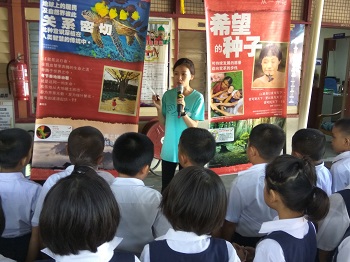 SRJKC Yuk Tse, Kelantan
On October 2, the "Seed of Hope" exhibition was held at SRJKC Yuk Tse, Tumpat, Kelantan. Organised by SGM Kelantan, the exhibition attracted about 530 students. The exhibition delivered the message of interconnectedness between people and the environment, inspiring viewers to cherish the natural environment. In addition, the contents of the exhibition also encouraged viewers to overcome their own sense of powerlessness, showing that everyone can make changes and devote themselves to building a sustainable future.
The students were given turns to visit the exhibition. Eleven exhibition guides, with their detailed explanations and vivid body language, interacted joyfully with the students who responded enthusiastically.
In addition, on October 7, the Mahkota Cheras Residents Association organised a Mid-Autumn Festival celebration at the Mahkota Cheras Commercial Park. This event was sponsored by the Kajang Municipal (MPKj). SGM Kuala Lumpur Region 5 members living in this area displayed the "Seeds of Hope" exhibition at this event. Numerous visitors viewed the exhibition boards and patiently listened to the narration by SGM youth. The visitors to this event also gained a greater understanding of SGM and its activities. 
In addition, SGM members also demonstrated traditional hand-made paper-cuttings and eco-friendly bags on the spot, attracting parent-child participation and promoted warm interactions among the crowd. Children also learned to make creative bags and transform the concept of environmental protection into action. There were also lantern parades, song and dance performances, creating a carnival-like atmosphere, adding lustre to the mid-autumn festival.
| | |
| --- | --- |
| | |
| Mahkota Cheras, Kajang | University of Malaya |
| | |
On October 27 and 28, 2017, at the invitation of the Environmental Protection Society Malaysia (EPSM), SGM also displayed the "Seeds of Hope" exhibition at the foyer of the Research Management and Innovation Complex (RMIC) during a conference EPSM co-organised with the Sustainability Science Research Cluster, University of Malaya (UM).
Entitled "Sustainability 2017 – SLiM 2017", the conference focused on our government, urban environment and mainstream sustainability. Numerous speakers talked on many topics and they included Tan Sri Razali Ismail, Chairman, Human Rights Commission of Malaysia (SUHAKAM), and former President of the United Nations General Assembly.