SGI President Daisaku Ikeda wrote: "Reading is a stepping stone to your dreams. It is a bridge to friendship and a treasure that shines with eternal brilliance." To enable more people to read President Ikeda's works and books on Nichiren Buddhism and the SGI, the SGM Publications Department held a Kuala Lumpur Book Fair on October 22 and 29, 2017 at the function room of the Sun Canteen in the SGM Culture Centre, Cheras. The book fair coincided with the SGM Kuala Lumpur October 2017 contribution campaign.
Over 300 titles, including books published by SGM and overseas publishers were on sale, with discounts ranging from 10% to 50%. Of these titles, over 10 are being sold by SGM for the first time, providing visitors with a wide array of titles to choose from.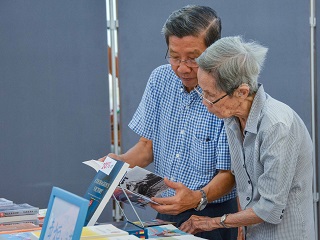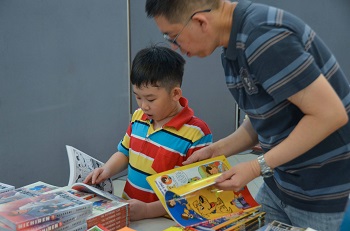 The titles cover areas such as books for new members, President Ikeda's dialogues with global luminaries, Buddhist study, women, youth and Malay translations of President Ikeda's works, among others. SGM Publications staff and volunteers were on hand to help promote and advise visitors on the titles available on sale.
In addition to the sales, several events were also held in conjunction with the book fair. On October 22, a soft launch of the book Ke Arah Keamanan, the Malay translation of A Passage to Peace, the Nur Yalman-Ikeda dialogue, was held at the Sun Canteen of the SGM Culture Centre. This book was published by the Federation of National Writers Association (GAPENA), working in close cooperation with SGM. SGM General Director Koh Sia Feai was on hand to speak about the relationship between SGM and GAPENA which has lasted over a decade and resulted in the publication of six Malay translations of President Ikeda's works to date.
He elaborated that GAPENA has a prominent standing in the 350 million-strong Malay world in Southeast Asia. GAPENA also recognised President Ikeda's contributions to literature and peacebuilding, awarding him with the its Highest Cultural Award, which carries the title "Mahapendeta Sarwa Alam" (Grand Universal Sage) on President Ikeda in Tokyo March 20, 2006. Four years later, on April 1, 2010, GAPENA conferred upon him the "World's Great Poet Award."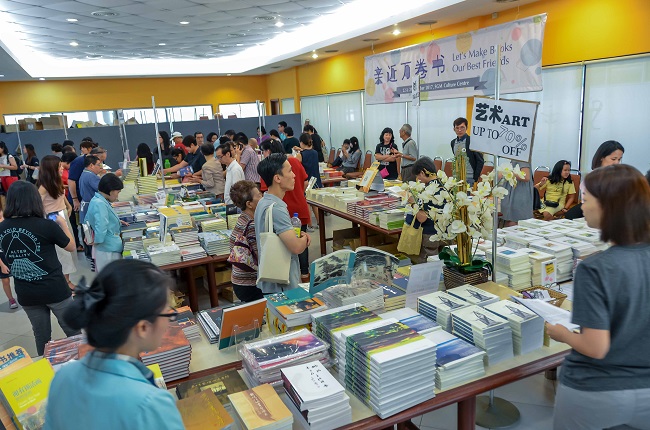 Other events included open microphone readings of the works of President Ikeda, including sharing of his children's stories, and viewing of animated adaptations of those stories. These events received warm support from patrons of the book fair.
The two days of the book fair was attended by many SGM members and friends. The promotions and events enabled the patrons to get to know more works of President Ikeda and those related to the SGI. It also received encouraging response and feedback from those present. Parents brought their children, and the children were seen being engrossed in books meant for children, such as the Nichiren manga. Strengthening the reading habit is a sure way of ensuring the development of the spirit.