From August 21 to 26, SGM streamed on the SGM Broadcast Channel Official on YouTube a video themed "Expanding Hope and Victory – Creating Value in A Time of Crisis" to commemorate August 24, the anniversary of SGI President Ikeda's joining the Soka Gakkai and also Men's Division Day. The video consisted of two parts: a study by SGM General Director Koh Sia Feai and sharing by SGM members on how they overcame adversity and created value during the COVID-19 pandemic. At the end of the viewing period, the video garnered over 20,000 views.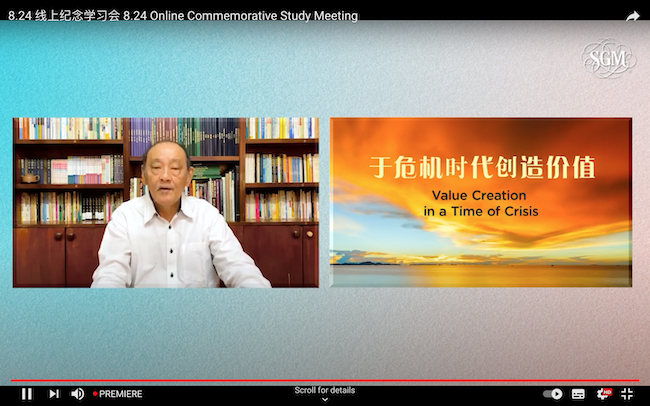 SGM General Director Koh Sia Feai
In his study, Mr Koh highlighted the importance of spreading Nichiren Buddhism's philosophy of revitalisation through the power of our voice, dialogue and encouragement. He stated two examples of hope being spread amid turbulence, namely the Treaty on the Prohibition of Nuclear Weapons (TPNW) entering into force on January 22 and the people of Sahel, Africa transforming a part of a desert into an agricultural land. He urged the viewers to not lose hope however bad the situation might be.
Mr Koh also encouraged the viewers by saying that, "All of you possess the strength to overcome all kinds of adversity. As long as you strongly believe in yourself and challenge adversity until the end with an undefeated spirit, you will definitely achieve victory." He urged them to start conducting dialogue and taking care of the members or people who are in need, thus igniting their life force to continue to face challenges in their lives.
| | |
| --- | --- |
| | |
| | |
| Bonny Lee | Joan Low |
| | |
| | |
| Krishnan Sinniah | Deswari Veerasamy |
| | |
Later, Bonny Lee and Joan Low from Pahang and Krishnan Sinniah together with his wife Deswari Veerasamy and daughter Deshini Krishnan from Penang shared how they overcame their families' respective financial crisis during the pandemic. Both of the families started with chanting abundant daimoku, eventually were able to transform their situations and gain unexpected benefits.
Lastly, an introduction on what SGM has contributed to society and a cultural performance by Greater Kuala Lumpur and Selangor choir members were also shown.
Just as Mr Koh has said, let us all unite and create the greatest value through dialogue and encouragement amid the pandemic.
Choir performance