In order to raise awareness of the rights and benefits of employees, SGM held an online webinar entitled "Being dismissed from your job, what can you do?" The talk, conducted in Mandarin, was organised by the SGM Justice Group, whose members are in the legal profession. Lawyers Lee Theng Ying and Lam Chong Seng spoke on the topic, with Kenny Lee Jun How moderating. Over 1,000 people participated.
Ms Lee Theng Ying summarised key topics such as Malaysian labour law, conditions of direct or indirect dismissal, compensation matters and actions that can be taken if an employee's rights and benefits are infringed. Due to the good response, Lee and Mr Lam spent almost an hour answering questions from the audience.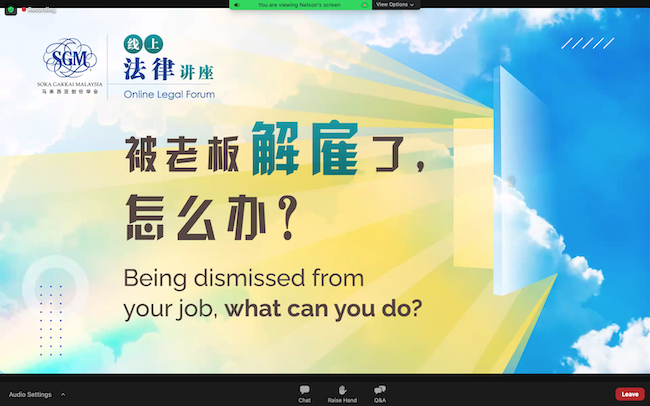 Ms Lee and Mr Lam have been serving in various law firms for seven and 25 years respectively, garnering rich experiences. Currently, Mr Lam is one of the panel solicitors for the Malaysian Bar under the Professional Indemnity Insurance (PII) scheme and a member of the Olympic Council of Malaysia's disciplinary board.
Both of them emphasised that before signing an employment contract, it is important to read it in detail and understand it thoroughly. They further encouraged the audience that dismissals are not a dead end. One must be optimistic and look for another way out. The talk benefited the attendees by giving them more legal knowledge, especially on employment contracts.