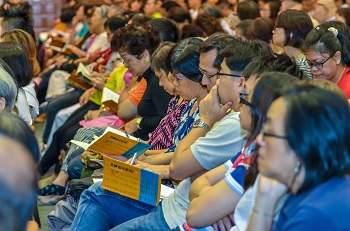 In line with SGM's aim to strengthen its Buddhist study movement for the sake of expanding the solidarity of Bodhisattvas of the Earth, SGM has launched a five-year study campaign of The Wisdom of the Lotus Sutra: A Discussion of Religion in the 21st Century. From 2017 to 2021, SGM will conduct four study sessions a year on this series, which is the result of discussions between SGI President Daisaku Ikeda and Soka Gakkai Study Department Leaders between February 1995 and June 1999.
the study sessions are conducted in Mandarin and English, on different days, at the SGM Culture Centre, Cheras. The sessions are also broadcasted live to various SGM centres throughout the nation to enable SGM members all over the country to imbibe the wisdom of the highest teachings of Shakyamuni Buddha.
The first such sessions were held on April 24 (Mandarin) and 25 (English), with SGM Study Department Leader Tan Kok Leong presenting the Mandarin session, while Young Women's High School Division Leader Anna Kang and Young Men's Vice-Leader Dinesh Chandren presented the English session. A little over 5,000 people attended these sessions in the SGM Culture Centre and the broadcast venues.
In this first study session, the speakers spoke on the philosophical vacuum that exist in the current age and the life-affirming philosophy that will be needed to fill this void. They also touched on second Soka Gakkai president Josei Toda's profound enlightenment in prison, in which he realised that "life is the Buddha" and he is a Bodhisattva of the Earth. President Ikeda said in this series: "Religion in the 21st century must provide people with the wisdom to be independent, to think and decide wisely for themselves how to live their life…Nothing is greater of worthier of respect than you yourself – this is the message that the Lotus Sutra calls out to each and every individual."
Participants at these study sessions expressed their delight at attending the sessions. SGM Pahang Region Young Men's Leader Ng Chin Hui said that the teaching of the Lotus Sutra is a philosophy that can change humanity. Nichiren Daishonin and the three founding presidents of the Soka Gakkai have fathomed the depths of the Lotus Sutra. Participants at other venues also expressed their joy at attending.