From November 23 to 25, 2018, some 880 region and above leaders nationwide, and chapter-level leaders from Kelantan and Terengganu, gathered at the SGM Culture Centre to participate in the first SGM Headquarters Leaders Conference (HQLC) which carried the theme "New Dawn of Kosen-rufu in Malaysia", which also commemorates the 88th Soka Gakkai Founding Day.
In his message, SGI President Ikeda urged the participants to dedicate their lives to their mission right where they are and become a crucial pillar of kosen-rufu for members.
On the first day, SGM Men Division (MD) Vice-Secretary Ng Teck Lih spoke on the eternal battle between good and evil, stressing that good must win over evil if we are to be happy. Later, SGM Young Men Division (YMD) Leader Andrew Looi shared the importance of winning the battle against evil by through earnestly studying The New Human Revolution.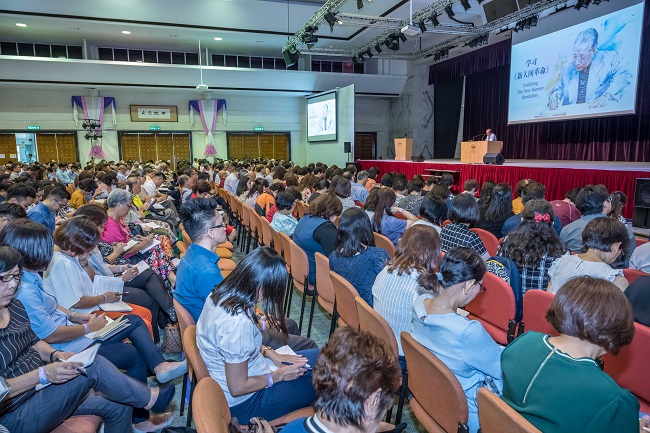 The conference continued with SGM Vice-General Director Johnny Ng and SGM Youth Division Leader Chia Kok Peng discussing how leaders can distinguish between good and evil and refute slanderers of the Law, which is crucial in this new dawn of kosen-rufu. SGM General Director Koh Sia Feai then presented his keynote address, in which he urged participants to strengthen their ability in recognising devilish functions through faith, which is key to creating a peaceful world for eternity, as emphasised by the three founding presidents of Soka Gakkai.
The following day, Mr Koh reported on SGM's 2018 activities and achievements, followed by the 2019 activities guidelines and objectives and a five-year development plan. This was followed by Andrew Looi and SGM Young Women Division (YWD) General Leader Ng Lay Kian speaking on strengthening the 1,803 blocks in the newly-expanded SGM organisation and fostering capable successors in the Youth and Future Divisions.
A new member database system (MDS) and organisation structure were introduced. This new structure also introduces a new organisational unit known as the area. The new SGM structure contains six areas, and representatives from each area went onstage to share their determination, based on guidance from The New Human Revolution.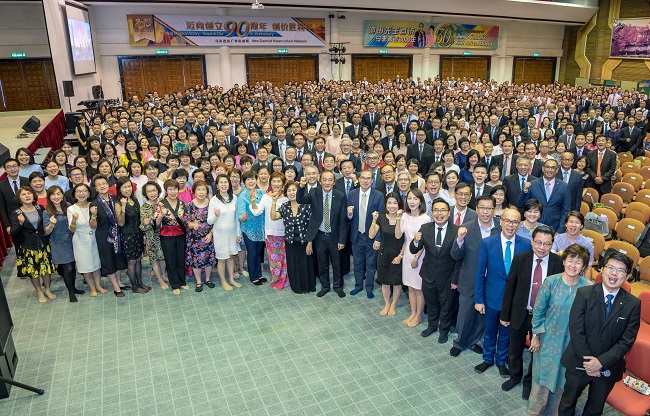 On the final day, culture group members first presented inspiring and heartwarming performances. Ng Lay Kian later read out President Ikeda's message commemorating the founding day of the Soka Gakkai. This was followed by the announcement of new national and area leaders. Among the new leaders appointed were SGM YWD General Leader Ng Lay Kian, SGM YWD Leader Choo Paik Hwei, SGM Study Department Leader Chia Kok Peng and SGM Future Division Leader Siow Yoon Kee.
Following that, SGM MD Leader Dr Christopher Boey shared with participants how President Ikeda's wrote Song of Human Revolution, during which he repeatedly revised the songs in order to inspire fellow members to fight for kosen-rufu. He urged all present to truly realise their mission and strive to repay our debt of gratitude to our mentor with victory reports. SGM Women Division Leader May Chan later spoke on fostering ourselves as truly capable leaders through individual encouragement and small group dialogues, which are key activities in this new dawn.
In his closing speech, Mr Koh stressed that achieving human revolution is a most important practice in Buddhism, and urged the participants to earnestly carry out their human revolution. Finally, all participants stood up and solemnly sang the Song of Human Revolution. Paying careful attention to the lyrics written by our mentor, they vowed in their hearts to take substantive action and advance fearlessly in 2019, the Year of Soka Victory.