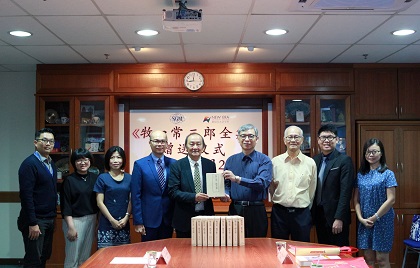 On November 29, 2018, a book-giving ceremony was held at New Era University College (NEUC). At the ceremony, The Complete Works of Tsunesaburo Makiguchi, a ten-volume collection of the writings and thoughts of the Soka Gakkai founding president in Japanese, was presented by SGM general director Koh Sia Feai to NEUC vice-chancellor Dr Mok Soon Chong. The collection includes works such as The System of Value-Creating Pedagogy and The Geography of Human Life.
In his speech, Dr Mok expressed his admiration for Mr Makiguchi's fearlessness when facing persecution from the Japanese militarist dictatorship and his ideas regarding children's happiness as the fundamentals of education. He strongly believed that these books would enrich the library's collection and hopes to maintain a friendly relationship with SGM while striving together for the development of Malaysia's education.
Mr Koh expressed his appreciation towards NEUC's understanding of Mr Makiguchi, and hoped that his ideals for education and peace would be spread in NEUC. SGM also donated RM 5,000 to NEUC, in conjunction with the 20th anniversary of its establishment.