On May 25, SGM leaders nationwide attended the 14th Training Academy held at SGM Culture Centre, Cheras.
Divided into three parts, the first part, led by SGM Vice-General Director Johnny Ng, speaks about the revised constitution of the Soka Gakkai in Japan. The latest revision aims to establish the eternity of the Soka Gakkai and was adopted at the SGI Autumn Training Course held in November 2017, where some 280 leaders from 70 countries and territories were also present. This latest constitution is borne out of the spirit of mentor and disciple and aims to safeguard the Soka Gakkai from various threats.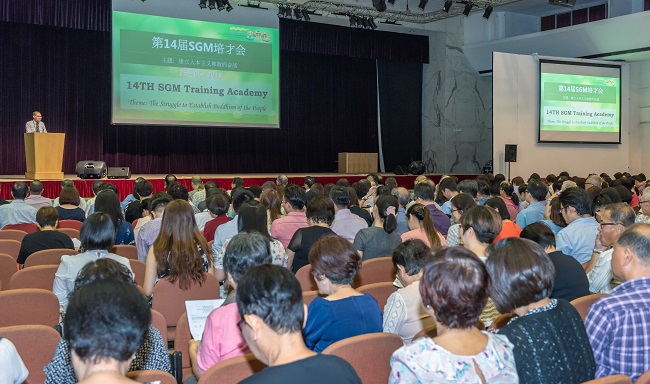 A video on the preamble of this Constitution was shown to enable participants to have a better understanding. Young Men Division Vice-Leader Tan Leng and Mr Ng explained the preamble in detail. Here, the new SGM Rules and Regulations was also introduced, which has the Soka Gakkai constitution as its basis.
SGM General Director Koh Sia Feai stated that the rules and regulations are necessary in safeguarding the Soka Gakkai, now that it has become a global religious movement. He urged participants to sign the "leaders' pledge" presented that day and resolve to protect the Soka Gakkai with one's life.
The General Director and the SGM Executive Central Committee members then led the pledge-signing, followed by all those present. This pledge represents SGM leaders' promise to advance kosen-rufu and be faithful to the rules and regulations. The participants then chanted daimoku, signifying a new start.
| | |
| --- | --- |
| | |
| Lecture by Young Men Division Leader Andrew Looi | Lecture by Vice-General Director Pang Chok Wai |
| | |
Women Division Leader May Chan and Youth Division Leader Chia Kok Peng then spoke on "The Struggle to Establish the Buddhism of the People." May Chan stressed on the importance of having conviction in carrying out shakubuku, while Kok Peng spoke on now is the time for disciples to rise and succeed their mentor and become the protagonists of kosen-rufu.
The Training Academy closed with Young Men Division Leader Andrew Looi and Vice-General Director Pang Chok Wai lecturing on "On the Buddha's Prophecy" in Mandarin and English respectively. During this session, they spoke about worldwide kosen-rufu as prophesied by Nichiren Daishonin in this Gosho and urged participants to further strengthen their faith.
Editor's note:
The Constitution of the Soka Gakkai establishes the organisation as a global religious movement, and is the supreme rules of the Soka Gakkai. SGI organisations shall use this Constitution as a guiding document.
The Constitution contains a preamble and 15 Articles (or clauses). The preamble recognises the three founding presidents as the eternal mentors of kosen-rufu who have dedicated their lives to this cause. Their guidance and spirit will be the eternal guiding standard for the Soka Gakkai.