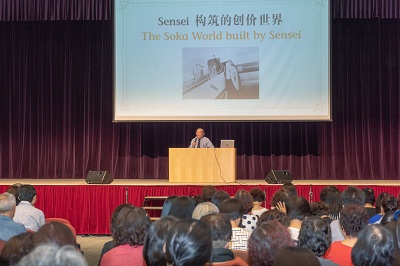 May 3 carries profound significance for the Soka Gakkai; both Soka Gakkai Day and Soka Gakkai Mothers Day fall on this date. On May 26, a May 3 commemorative gongyo meeting was held in conjunction with the SGM state representatives meeting at the SGM Culture Centre, following SGM's success in achieving 15,000 Professors of Happiness
Youth Division Leader Chia Kok Peng then read out President Ikeda's May 3 congratulatory message. In his message President Ikeda wrote: "When I was inaugurated as third Soka Gakkai president 58 years ago, on May 3, 1960, my wife, Kaneko, and I made a vow. At that time, our admirable women's division members, the mothers of Soka…were enduring unjust slander and abuse in society. My wife and I vowed to create an age in which these women would be respected and praised not just throughout Japan but around the world, because such recognition would be actual proof of the brilliant development of kosen-rufu. And today exactly that has happened, with thinking, caring people across the globe now praising Soka women as a foremost gathering dedicated to happiness and peace." President Ikeda's efforts have created a golden age of kosen-rufu with women at the forefront.
The culture groups then presented "Youth with a Noble Vow" and "This is My Name", expressing the vow of youthful disciples. Young Women Division members Wong Ching Ni and Eva Low Bee Har shared their shakubuku victory reports, in which they overcame various challenges and inspired fellow members. Participants were moved by their sharing.                
Women Division Leader May Chan spoke about the day before President Ikeda's inauguration as third Soka Gakkai president, urging all to renew their vow for kosen-rufu. She also spoke on her impression on General Director Koh Sia Feai's article in the May 2018 issue of Cosmic, "Let Every Day be Soka Gakkai Mothers Day."
Mr Koh then took the stage to speak about the greatness of the Soka Gakkai, clarifying the true identity of the Soka Gakkai as the sole organisation carrying out Nichiren Daishonin's intent and decree. The three eternal mentors of the Soka Gakkai have dedicated themselves wholeheartedly for kosen-rufu; leaving the Soka Gakkai means discarding the path of kosen-rufu based on the spirit of mentor and disciple.
Just before ending his speech, Mr Koh read out a verbal message from President Ikeda congratulating everyone over achieving unprecedented expansion and encouraging all to strive even harder. Mr Koh urged all present maintain harmonious unity by "transcending all differences among themselves to become as inseparable as fish and the water in which they swim."