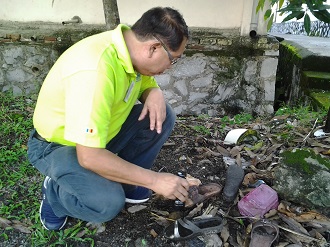 The dengue fever epidemic has been on a steep increase this year. According to World Health Organisation statistics, as of July 23, Malaysia has over 53,000 cases with close to 150 deaths this year. The state of Selangor alone has recorded over 30 deaths as of end-July.
SGM members have been working closely with local authorities in some areas to help tackle the dengue fever epidemic. In August, SGM Kuala Lumpur members living in the SS3 area of Petaling Jaya took part in an Aedes mosquito search-and-destroy campaign coordinated by the Petaling Jaya City Council (MBPJ) and the Ministry of Health. Members of the Rotary Clubs of Bangsar, Bandar Sunway, Bukit Bintang and Sri Petaling also participated in this campaign. In the SS3 area, 89 cases have been reported, resulting in two deaths.
On August 9, the volunteers attended a training carried out at MBPJ headquarters in order to train them in carrying out house-to-house inspections, educate local residents and carry out Aedes larvae eradication on the spot if necessary. Following the inspection, the volunteers then carried out house-to-house visits in the SS3 area on August 16, 17, 23 and 24, offering to carry out inspection to look out for Aedes (specifically Aedes aegypti) larvae and eradicating them when discovered. The SS3 area has become a dengue fever hotspot in recent months. An area is declared as a hotspot if an outbreak cannot be brought under control within a month.
Over 50 SGM volunteers living in the SS3 and nearby areas participated in this campaign, which was spear-headed by the MBPJ Councillor for the SS1, SS3 and SS9 areas, Sean Oon Chong Ling. MBPJ staff and ministry staff were also present. Volunteers divided themselves into teams of 3-4 people and went to house-to-house. Local residents were appreciative of the volunteers' efforts to eradicate Aedes breeding spots.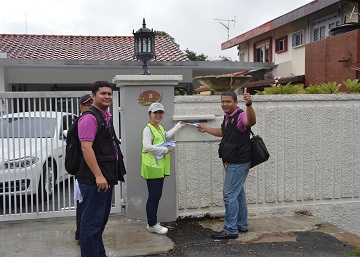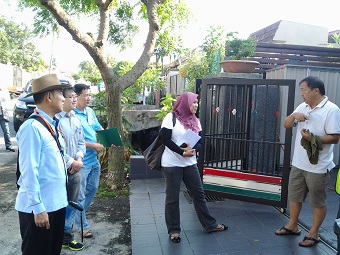 Mr Oon praised the volunteers for their commitment and dedication in tackling the dengue scourge. He stressed that the Aedes mosquito breeds easily in stagnant clean water that are not exposed to sunlight. The amount of water needed can be as little as that of what a mineral water bottle cap can contain. Places where the mosquitoes can breed include household gully traps, hardened soil in pots, toilet bowl cistern collars, upturned paint containers, the drain pans of air-conditioning units (found outside the house) and even among leaves of plants.
He advised people to regularly inspect their households for possible dengue breeding grounds, and if necessary, apply biocides such as Abate to kill the larvae on a regular basis. He also hopes that MBPJ can work together with residential associations to carry out clean-up of areas that are at risk of becoming Aedes breeding spots.