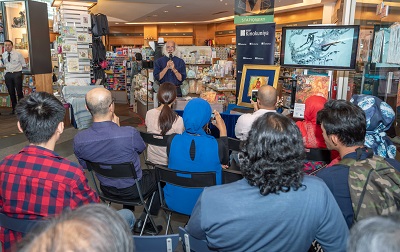 Following the "Splendours of Love: The Art of Syed Thajudeen" art exhibition held at Wisma Kebudayaan SGM from March 17 to April 8 and the publication of the art catalogue of the same name, the art catalogue received a launching at Books Kinokuniya in Suria KLCC on May 6 in the store. This marks another milestone for books published by the SGM Publications Department.
In recent years, the prestigious Books Kinokuniya has been carrying several art catalogues published by SGM. To further promote the Splendours of Love: The Art of Syed Thajudeen art catalogue and raise the awareness of the Malaysian public towards art, the store hosted a launching and introduction for the book. SGM Publications worked closely with Kinokuniya for this event.
Syed Thajudeen Shaik Abu Talib, whose works are featured in this book, graced the event with members of his family and friends. During this event, he spoke about his experiences in life and creating art. Following the event, he happily inscribed copies of the art catalogue bought by Kinokuniya customers.
The event saw the attendance of art lovers, collectors, Kinokuniya Chinese Books Section Manager Ms Chen Pek Ee, other Kinokuniya staff, SGM representatives and members of the public, totalling some 30 persons. Mr Syed Thajudeen interacted warmly with the attendees, creating a congenial atmosphere.