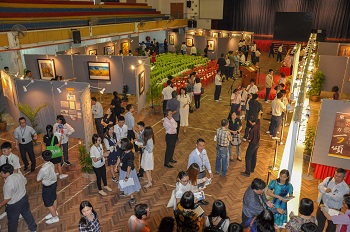 From May 2–6, 2018, the Seremban Chung Hua High School held a special art exhibition, which highlighted artwork from the Song Dynasty, paintings of river scenes from Qing-Ming period and replicas of the work of Vincent Van Gogh at its auditorium. Deputy Representative Michael S.Y. Yiin of the Taipei Economic and Cultural Office in Malaysia was the guest-of-honour at the opening ceremony on May 2. SGM Negeri Sembilan Chairman Dato' Chong Khin Sang was also one of the guests present.
SGM Negeri Sembilan was one of the sponsors of the event, which also drew financial support from the Cultural Fund of Taiwan's Kuang Tah Association, the Fo Guang Shan Malaysia Dong Zen Temple, the Malaysia Contemporary Chinese Art and Calligraphy Association, the Association of Eastern Literary Art and Malaysian Artists Society.
The exhibition aimed to promote the arts and culture of the East and West to the people of Negeri Sembilan. Twenty-six pieces of artworks from the Song Dynasty, paintings of river scenes from the Qing-Ming period (measuring up to 100 feet in length) and 30 pieces of replicas of artworks of renowned artist Vincent Van Gogh were on display.
Over the five days, workshops and lectures were also held to educate the public.