Revered as one of the greatest figures in the history of the Republic of Cuba, José Martí (1853–1895) was also a Cuban national hero, revolutionary philosopher and spiritual mainstay of the Cuban people. Referred to as the "Apostle of Cuban Independence," he was a poet, author, journalist, educator, and started fighting for the independence of Cuba from Spain at the age of nine. At the young age of 16, he was imprisoned for six years and later exiled. At 42 years old, he was martyred in a battle fighting for Cuba's independence.
With the hopes that the public, especially youth, will be enlightened to the significance of building peace and a safe future, SGM and the Embassy of the Republic of Cuba to Malaysia organised a talk entitled "Learning From the Ideals of Martí and Ikeda For a Bright and Humanistic Future" at the International Conference Hall of Wisma Kebudayaan SGM on May 19, which also happens to be the 123rd Memorial Day Anniversary of José Martí.
On hand to present the talk was Her Excellency Ibete Fernández Hernández, Ambassador of the Republic of Cuba to Malaysia. Moderated by Mr Michael Kok, President of Soka Gakkai Malaysia, the talk was attended by 150 people. Also present were the Ambassador of the Republic of Venezuela, HE Manuel Antonio Guzman; Ambassador of the Republic of Uruguay, HE Nury Bauzan; Charge d'Affaires of the High Commission of the Kingdom of Lesotho, Mrs Mamorero Mantsupeng Matli, and representatives of embassies, institutes of higher learning, media and associations.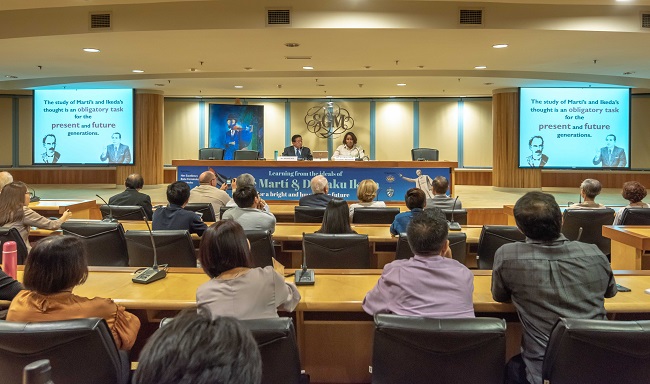 Considering that the study of Marti's and SGI President Ikeda's thoughts as an obligatory task for present and future generations, HE Ibete Fernández focused on four points that defined Marti's life, which are expressed in the following: (1) "We rise for our country, but not above her. To rise above her is to rise against her"; (2) "It is a sin not to do what one is capable of doing"; (3) "I am a son of America and I owe myself to her" and (4) "All the glory in the world fits in a kernel of corn."
HE Ibete Fernández also spoke about the dire circumstances Cuba was in during the Spanish colonisation and the oppression the people suffered. She pointed out the vast differences these two men lived and worked in and emphasised their similarities, one of which was that both of them had mentors – Marti had Rafael Maria de Mendive and President Ikeda had second Soka Gakkai president Josei Toda – who guided their actions throughout their lives. Another similarity she noted was that both men once lived under the horrors of war and valued unity, people, freedom, education and dialogue. Like Martí, President Ikeda believes that the transformation of humanity, transcending all differences, is fundamental in achieving peace and happiness.
President Ikeda visited Cuba on June 24, 1996, at the height of tensions between the US and Cuba. For further information about Jose Marti, the audience could read up a book entitled Jose Marti, Cuban Apostle: A Dialogue, produced as a result of President Ikeda's dialogue with Cuban poet Cintio Vitier.