On October 26, 2019, the opening ceremony of "The Light of Hope" calligraphy exhibition was held at SGM Penang Culture Centre. Seventy-nine calligraphic works by 38 members of Soshokai and 8 works by Calligraphy Society of Malaysia (CSM) were being showcased.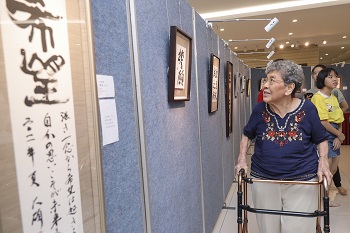 Soshokai, an association aiming to spread hope and promote peace through calligraphy, was established in 1988, consisting of current students and alumni of the Calligraphy Clubs in the Soka Schools and Soka University, Japan. Believing that art has the power to revive the human spirit, Soshokai has been holding cultural exchanges with several art organisations including those in Taiwan and China.
In 2011, Soshokai held its first overseas exhibition in Malaysia. CSM is one of the organisations that still cooperate closely with Soshokai.
In his opening speech, CSM chairman Ng Swee Kheng hoped that the organisers will have more opportunities for collaboration, and together practise the humanistic philosophy of peace, culture and education.
When giving his welcoming remarks, SGM General Director Koh Sia Feai introduced the origin and objectives of Soshokai. He also expressed his condolences upon the passing of Soshokai founder Taiseki Nambo.
Meanwhile, Soshokai chairman Masanori Tani was grateful for the long term friendship between Soshokai and CSM, and said that Soshokai will continue encouraging people through their calligraphic works.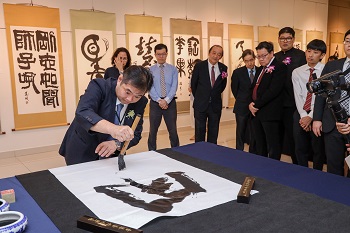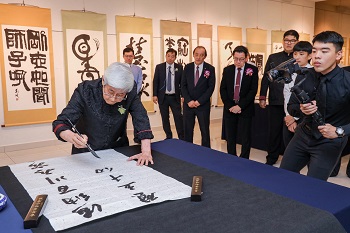 Before the opening, Masanori Tani and Hironobu Nakayama from Soshokai, together with Ng Swee Kheng and Chen Yan from CSM also conducted an artistic exchange. Their skillful techniques awed the audience.
Also attending were Soshokai vice-chairman cum secretary-general Houseki Chiku, Soshokai director Houzan Kanehara, SGM Penang chairman Tan Kar Bin, renowned calligraphy and painting expert Dato' Loh Sum Min, and seven Soshokai members coming all the way from Japan.
The exhibition, lasting until November 9, was viewed by some 450 people. An art talk was held during the exhibition period where the Soshokai members shared what they have gained through arts.