Soka Gakkai Malaysia and the Konrad-Adenaeur-Foundation co-organised 'World Religions -Universal Peace – Global Ethic' exhibition at Wisma Kebudayaan SGM, Kuala Lumpur to promote better understanding, respect and appreciation of the world religions from July 27 to August 5, 2003.
The exhibition was opened by HE JQrgen A.R. Staks, Ambassador of the Federal Republic of Germany to Malaysia on July 27, 2003. Among those attending the opening were leaders of religious organisations, analysts and scholars from research and academic institutions, and senior journalists. Among the dignitaries who attended the opening ceremony were the Ambassadors of Switzerland, Morocco, Bosnia & Herzegovina, Slovak Republic, High Commissioners of South Africa, Republic of Fiji, New Zealand and Ghana.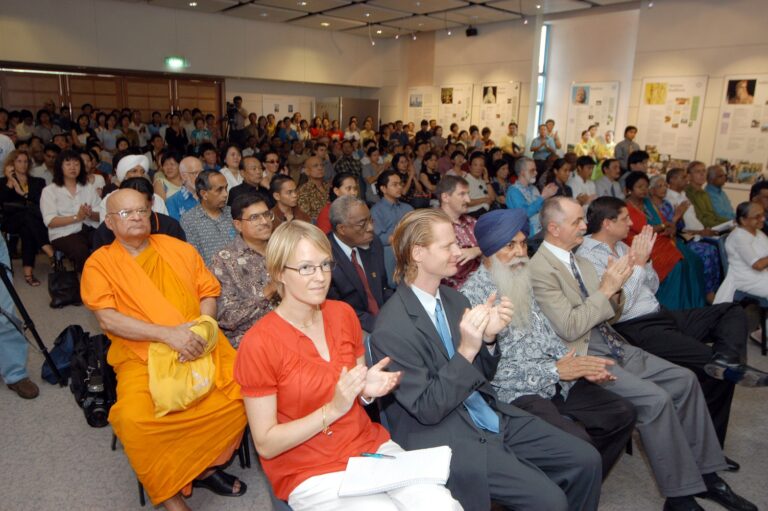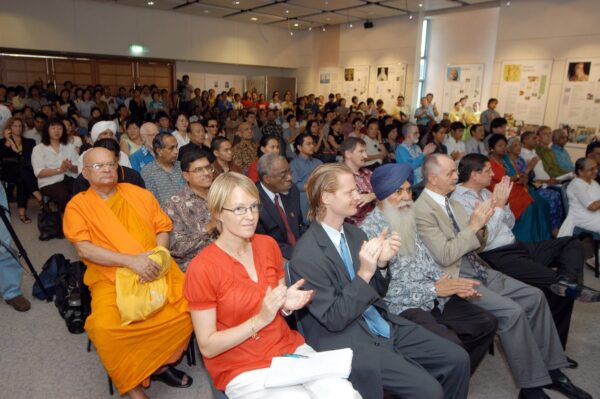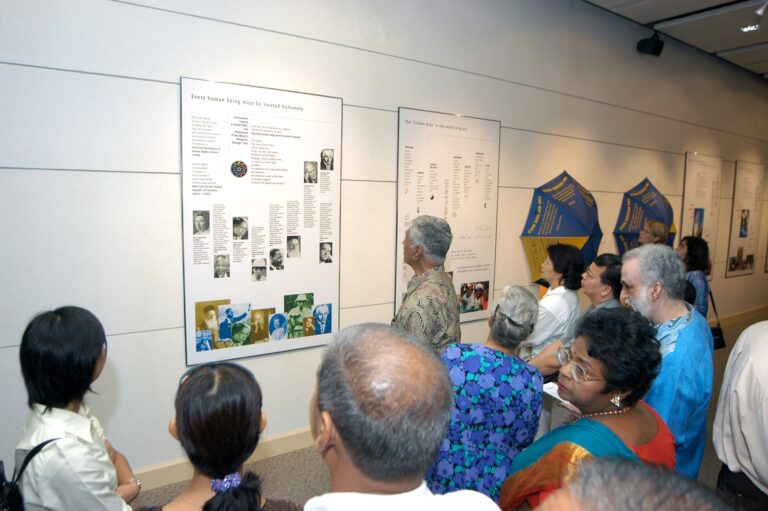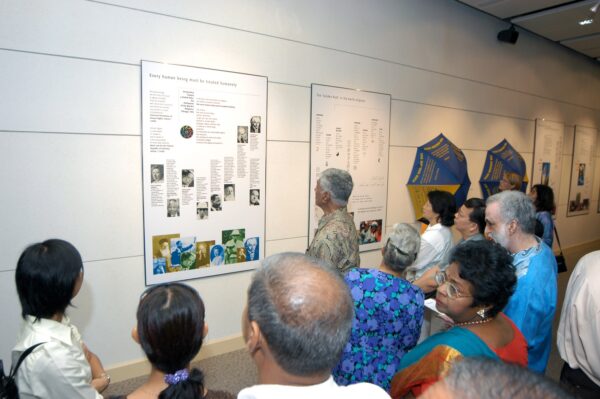 Following the opening ceremony, there was a 60-minute film projection on Buddhism. The film was part of the acclaimed film series 'On the Trail of World Religions' produced by Professor Hans Küng of the Global Ethic Foundation, Germany. The speakers for the panel discussion were Venerable Dr K. Sri Dhammananda, Chief Monk from the Maha Vihara Buddhist Temple and Dr Christopher Boey from SGM with Peter Schier from Konrad-Adenauer-Foundation as the chairman.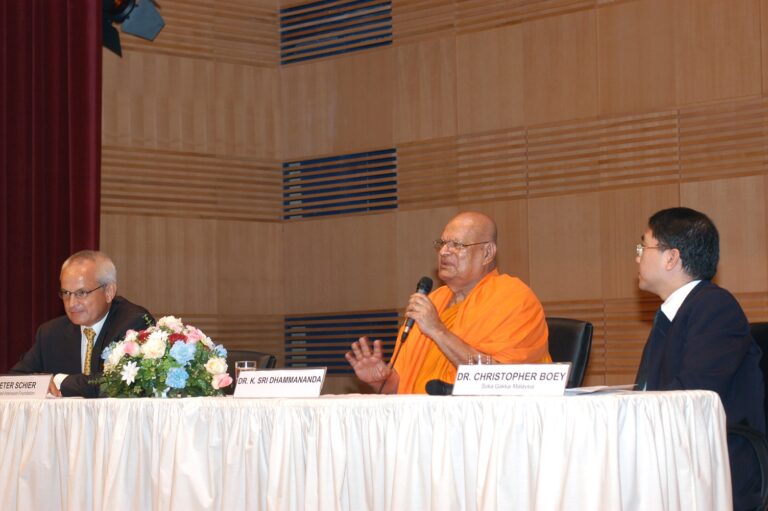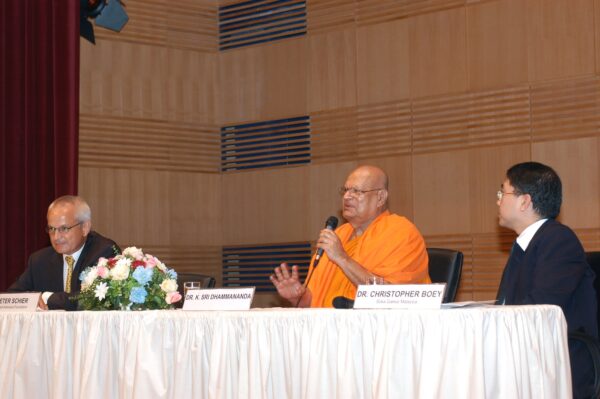 The 'World Religions-Universal Peace-Global Ethic' exhibition shown in Kuala Lumpur here is an enlarged version of an exhibition created by the Global Ethic Foundation. The original exhibition has been shown at the UN Headquarters in New York, Germany, Switzerland, Austria and United Kingdom. Prof Hans Küng, president of the Global Ethic Foundation writes: "People of all religions know far too little about one another; above all they know far too little about what all the religious and ethical traditions have in common. This exhibition tries to contribute towards changing that … it aims to provide orientation and to challenge you to think again about the importance of the great religions for humankind."
The exhibition introduces six world religions: Buddhism, Chinese Religion, Christianity, Hinduism, Islam and Judaism. New panels introducing Sikhism, Bahai Faith, Nichiren Buddhism were included. Also highlighted were six core ethical standards which all religions have in common (1) Treat others as you would like to be treated; (2) Every human being must be treated humanely; (3) Have respect for life; (4) Deal honestly and fairly; (5) Speak and act truthfully and (6) Respect and love one another, and be responsible for your partner's happiness. These six basic principles for a global ethic have been accepted by the Parliament of the World's Religions in 1993.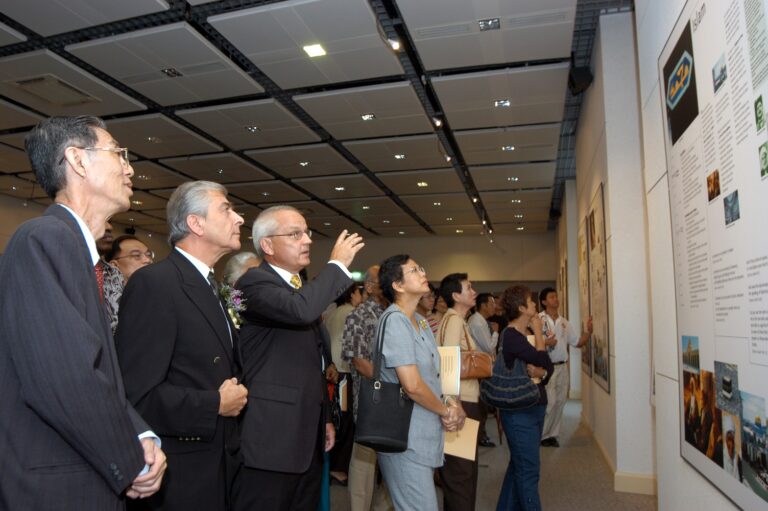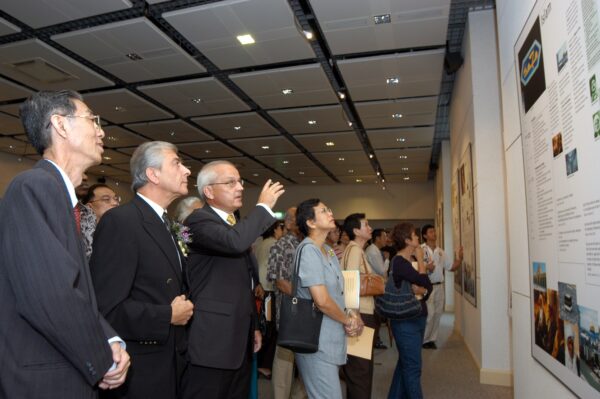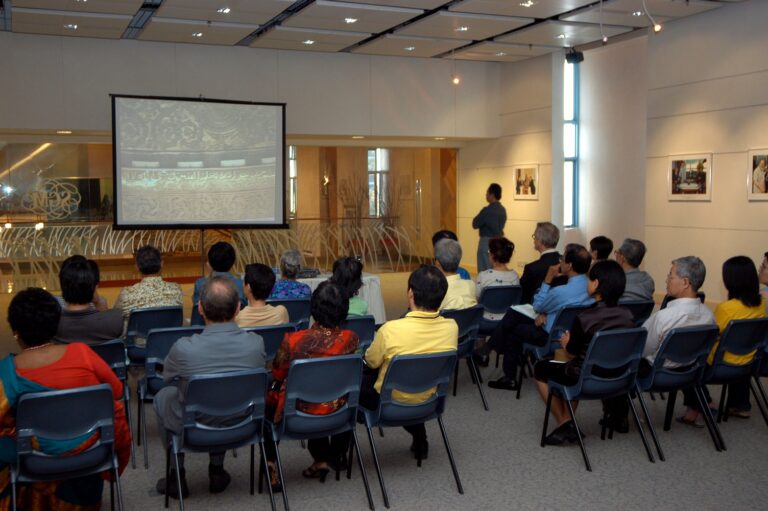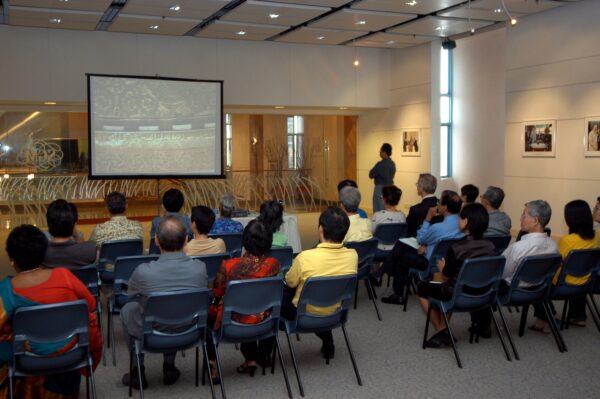 In addition to the panels on World Religions, SGM also put up several exhibition panels introducing its objectives and activities on the first floor of the exhibition hall. SGM publications as well as those from other SGI organisations were also put on display. In addition, photographs of SGI President Daisaku Ikeda's meetings with prominent figures including Prime Minister of Malaysia Dato Seri Dr Mahathir Mohamad and Nelson Mandela were displayed.
Film shows on all the religions that were exhibited were shown each day from July 28 to August 5. After each film show, there was a panel discussion followed by a question-and-answer session. For the session on Nichiren Buddhism, the documentary 'Embattled Buddhist: Under the Rising Sun' was shown. In total, more than 2,000 people from various faiths attended the entire series of discussions lasting 10 days.