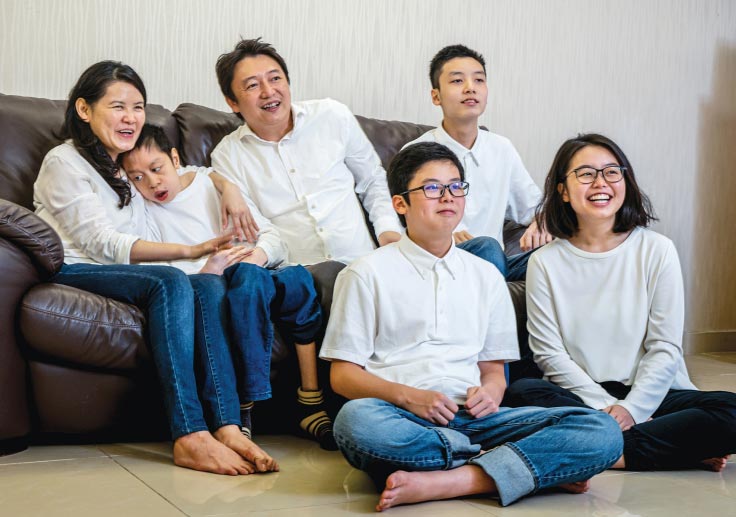 I was born in Pahang and the youngest among seven children. My eldest brother was a gangster, and would sometimes come home with a bleeding head from fights, or hold a knife against our mother to get money for drugs.
Due to this terrifying situation and a speech impediment, I had an inferiority complex. By contrast, my elder sister was a brilliant and independent person. Unfortunately, her life did not turn out well – she married a chronic gambler.
At 15, I moved to Singapore for greener pastures. To me, money was of paramount importance.
There, I met my future husband, Desmond Sim. Before marriage, I asked him to give me his monthly salary and he agreed. I thought that having complete control over his finances will make me happy and secure.
Later, we returned to Kuala Lumpur, where life was smooth until one day, not long after the birth of our eldest daughter, a loan shark appeared at our door.
I was appalled to learn that my husband has been a chronic gambler since young. He not only owed huge sums to loan sharks, but also maxed out several credit cards. Recalling my gambler ex-brother-in-law, it seemed like history repeating itself.
Exasperated by his lack of remorse, we quarrelled frequently.
To save our marriage and halt his gambling, I used various means, even wielding a knife to threaten him. This vividly resembled the times my brother threatened our mother for money.
My family members advised me to divorce him, but I did not want our young daughter to lose her father. I clinged on to the marriage.
I became pregnant again in 2001. My husband promised to turn over a new leaf for our children. However, he did not quit gambling; he merely gambled less often.
Once when he came home from gambling, I threw a stone at him, as if I had gone mad.
In this environment of non-stop quarrelling, our first son, Edward Sim, was born.
Encountering the Mystic Law
Edward was a lovely baby, but suffered from congenital megacolon and cerebral palsy. He couldn't drink milk or sleep, and cried endlessly. He weighed only two kilograms at two years old. I went everywhere seeking treatment for him. His condition weighed heavily on me, and I began to have depression. I felt all my life being drained and everything was bleak.
Desmond heard that certain crystals could change our circumstances, or even had healing powers, and took me to a shop selling such crystals. There, we met an SGM member whom people called Mrs Looi, who listened to our problems. She said, "Crystals cannot help you. To transform heavy karma, you must chant Nam-myo-ho-renge-kyo." This was a turning point in our lives.
I encountered Nichiren Buddhism at this most painful period of my life. Chanting Nam-myoho-renge-kyo helped shine a brilliant light on the darkest parts of my heart and transformed my sadness and pain into great hope.
I began to realise that the most important thing in life is not money but good fortune. SGM leaders continuously gave me sincere and compassionate encouragement to guide me onto the path of good fortune and true happiness.
I enshrined the Gohonzon in 2004.
Yearning for Good Fortune
Mrs. Looi often encouraged me to accumulate good fortune by participating in SGM activities.
One day in 2004, while preparing to attend a Kaho Group (Young Mrs) meeting, I saw my husband getting ready to go out to gamble. I became enraged and started a huge quarrel.
I wept all the way while driving to the meeting. I wanted to skip the meeting venue as my face was red and swollen, but decided that I wanted happiness and joy. I mustered the courage to attend the meeting.
I knew I had opened the door to self-improvement.
My husband thought I would still be angry when I returned home. However, I just smiled at him and shared what happened at the meeting.
The changes in me astonished him. He became curious about my faith.
I began to chant daimoku earnestly, praying to change from a selfish person to one who could bring happiness to others, particularly my husband.
After many lengthy chanting sessions, my husband finally agreed to take part in SGM activities with men's division leaders.
Through participating in SGM activities, Desmond realised that if he did not give up gambling, all his good fortune would vanish and he could end up in dire straits. He then began to chant daimoku and never looked back.
In the last 16 years, he has not gambled once. My depression has disappeared without me realising it as I threw myself into SGM activities and strove for people's happiness. My speech problem also went away!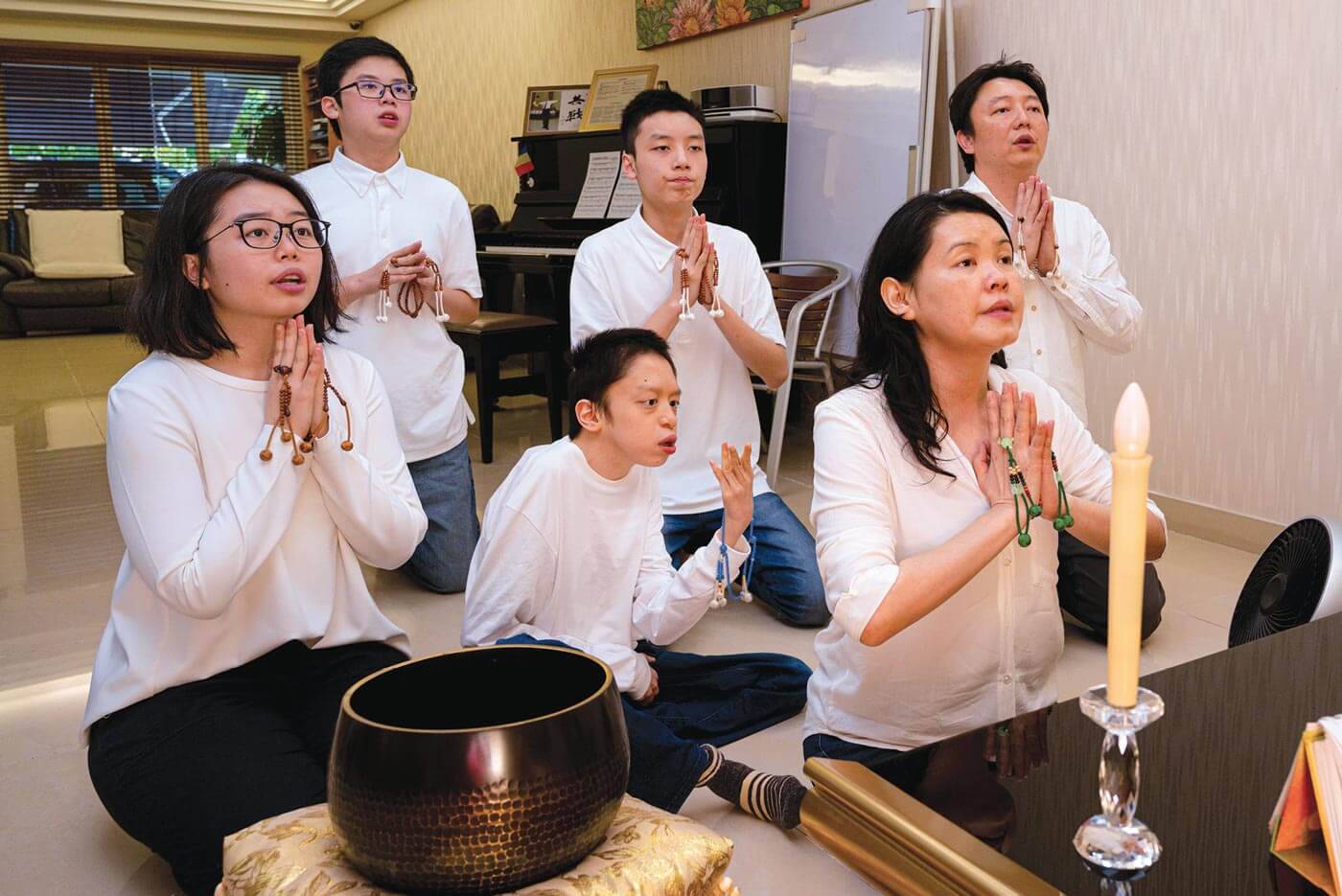 I am very grateful to my son Edward, who brought happiness to the family. Without him, I would be living life as a selfish person without values and gratitude.
He led us to Nichiren Buddhism, which enabled Desmond and I to become better persons. Our four children love one another and live harmoniously.
My two oldest children suffer from G6PD deficiency, a genetic disorder where they will easily suffer infections if they are not careful with their diet. My doctor told me the probability of our future children having the same condition was very high too. But with 100 per cent conviction in prayer and faith, our two younger kids were born free from this disorder. All four of them participate actively in the SGM high school division and other activities.
My husband and I transformed from a quarrelsome duo to a happy and harmonious couple. The transformation in our characters moved my elder sister, my ex-drug addict brother, and 36 members of my family to receive the Gohonzon, creating a karma-changing drama of human revolution.
Advancing towards the 100th anniversary of the Soka Gakkai in 2030, I vow to nurture my children and the youth in my district to strive for the true happiness of others in our community.
Adapted from the April 2021 issue of COSMIC.