On 27 November, SGM held an online commemorative meeting to celebrate the 20th anniversary of the establishment of Wisma Kebudayaan SGM (WKSGM) under the theme, "Embracing Our Shared Humanity." WKSGM was opened on 18 November 2001 and the joyous ceremony saw an online attendance of 1,700 people.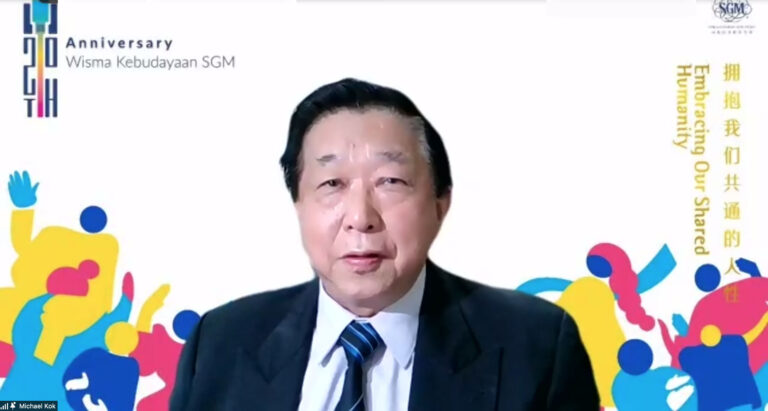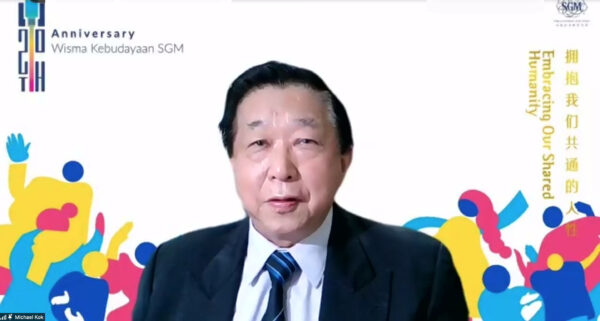 The event kicked off with a video displaying some of the past events held at WKSGM followed by a welcoming speech by president of Soka Gakkai Malaysia Michael Kok. During his speech, he read out SGI President Ikeda's congratulatory message. He then mentioned that, "through the activities, we have developed meaningful friendships with many people, friends who share the common goal of working for the betterment of humanity."
Next, a video was played, featuring congratulatory messages and good wishes of numerous ambassadors, ministries, academicians, scholars, artists and youth groups including Datuk Dr Ronald McCoy; Dr N. Radhakrishnan, Chairman of the Indian Council of Gandhian Studies in India; Datuk Haji Zainal Abidin Datuk Wira Borhan, President of Federation of National Writers Associations of Malaysia (Gapena) and Dr Nagulendran Kangayatkarasu, Deputy Secretary-General (Planning and Culture of Science), Ministry of Science, Technology and Innovation.
The first interactive session then began after this. Entitled, "The Way Forward for Peace and Education," the session was chaired by Prof Emeritus Tan Sri Dato' Dzulkifli Abdul Razak, rector of International Islamic University Malaysia and Datuk Prof Dr Azizan Baharuddin, director of the Centre for Civilisational Dialogue, University of Malaya. Dr Mok Soon Chong, vice-chancellor of New Era University College was the third speaker.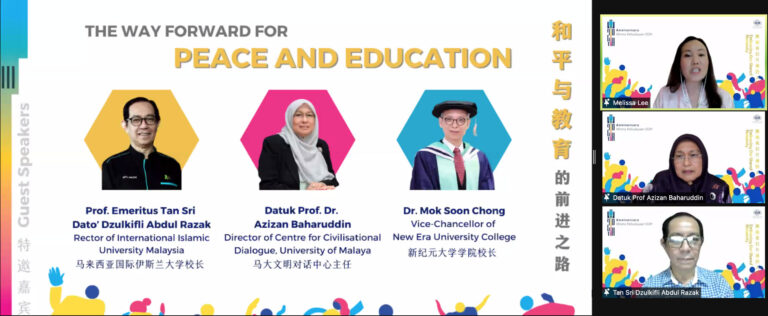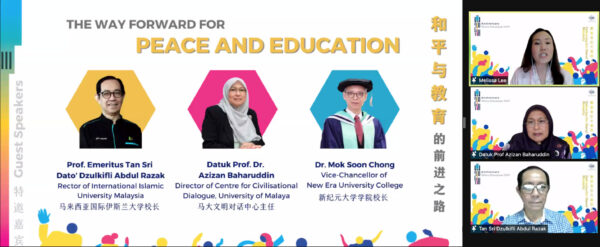 Apart from commending on SGM's efforts in carrying out over 550 cultural activities in WKSGM, they encouraged conducting more dialogues among peoples of diverse races, religions and backgrounds to promote understanding and respect. Prof Dr Azizan also urged the participants to increase their cultural literacy by understanding each other's cultures and rituals while Prof Dato' Dzulkifli, calling WKSGM an iconic building, called on the participants to take action to meet and interact with each other more frequently, even to the extent of living together if possible. He also insightfully highlighted various changes and dangers our society is undergoing.
Dr Mok, in his recorded speech, he hoped that "WKSGM will organise more seminars on dialogue among civilisations…so that we can learn from each other and achieve our common progress and common goal."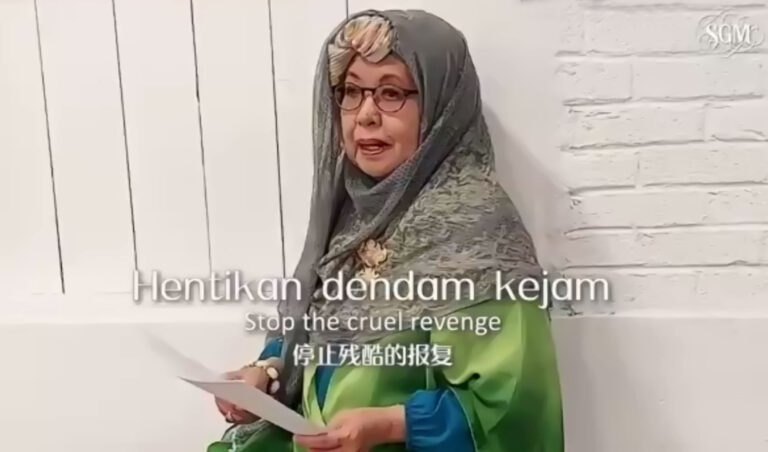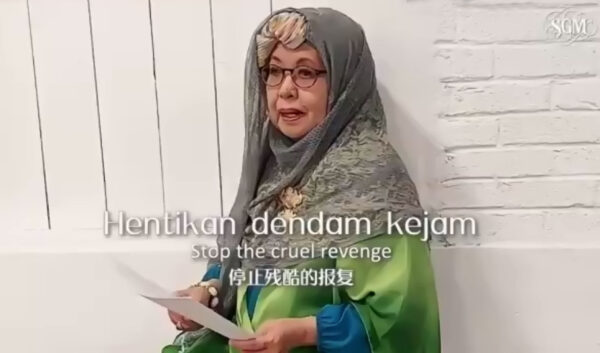 The meeting was graced by the presence of Datuk Prof Dr Siti Zainon Ismail, Malaysia's 14th National Literature Laureate, who recited a poem she composed specifically for the occasion. Entitled "Demi Langit dan Bumi Kasih-Nya, Sejagat Kemanusiaan Kita," (The universality of our humanity) Dr Siti has adapted the poetry of Usman Awang and SGI President Ikeda into her poem which urges us not to be rendered helpless by and the poor condition our Earth is currently in. Instead we should heal it by spreading peace, humanistic values and friendship.
With the intention to transcend differences, bring people together and create a culture of peace, the second interactive session, under the theme "The Way Forward for Culture and Art" started, chaired by HE Florentino Batista Gonzalez, the Ambassador of Cuba to Malaysia, Dr Choong Kam Kow, chairman of Federation of Asian Artists Malaysia Committee, and Ms Anna Karina Jardin, founder of Artdialogo Asia.
In expressing their high hopes and expectations for the role of culture and art in creating a peaceful world of harmonious coexistence, Dr Choong wished SGM would hold more exhibitions and seminars with greater scope and depth. HE Florentino Batista Gonzalez further commended SGM as a trusted friend and partner. He hoped that SGM would expand WKSGM's role as a common platform to share excellent art with more people. Ms Anna Karina Jardin viewed culture as an invisible thread that unite people while expressing hopes that SGM will bring even more young people together.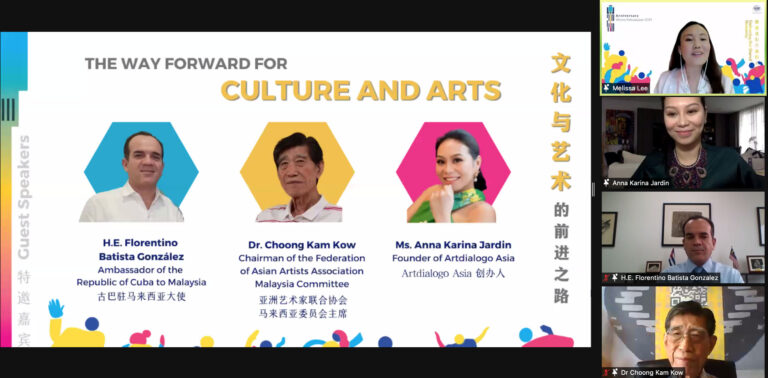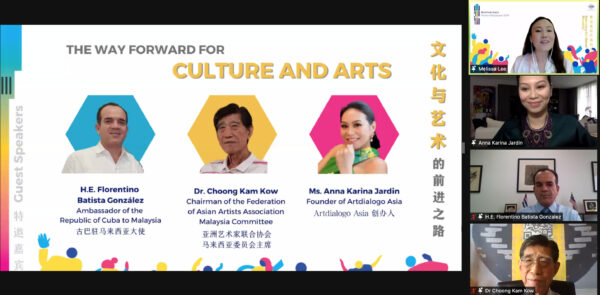 In addition, a virtual exhibition entitled, "Blossom of Hope: SGM Art Collection Exhibition" was launched in conjunction with the 40th anniversary of President Ikeda being awarded the title poet laureate by the World Academy of Arts and Culture in 1981. The exhibits can be viewed at http://www.harmoni-soka.org/virtualgallery.
In conclusion, SGM General Director Koh Sia Feai gave a commemorative speech in which he mentioned that WKSGM has the mission to build trust, eternal peace and connecting people, forming strong, universal and eternal bonds. He emphasised that culture and art is the most fundamental force to construct peace and happiness, inspire and cheer up people's hearts, beautify our life and enrich society.


Mr Koh also said that as art is a great spiritual treasure of humankind, it should be shared among the people. Only when art is appreciated, welcomed, and loved by the people can art manifest its meaning. He reaffirmed his commitment to turn WKSGM into a "hub for international exchanges that expands waves after waves of cultural and peace exchanges" as President Ikeda wished.
Chairman of the Indian Council of Gandhian Studies, India, Prof N. Radhakrishnan wrote his comment on the chatroom, "Today's programme is both historic and amazing. The galaxy of panellists and the wealth of ideas shared speak of SGI's commitment to human brotherhood and promoting shared values. That SGM is in the forefront of forging human solidarity needs to be congratulated. March ahead committed value creators; the future belongs to those like you who dare and act. Dr Ikeda leads us all to chart out a future that will be eternally bright and peaceful."