Zanita Anuar, curator of the National Art Gallery gave a public lecture at Wisma Kebudayaan SGM, Kuala Lumpur on September 1, 2002. Chairperson Dr Sia Ah Hiok, Director of the Student Services Division from Inti College introduced Zanita as "a person who lives for art," and one with the mission of engaging the Malaysian public in cherishing our unique and diverse cultural heritage.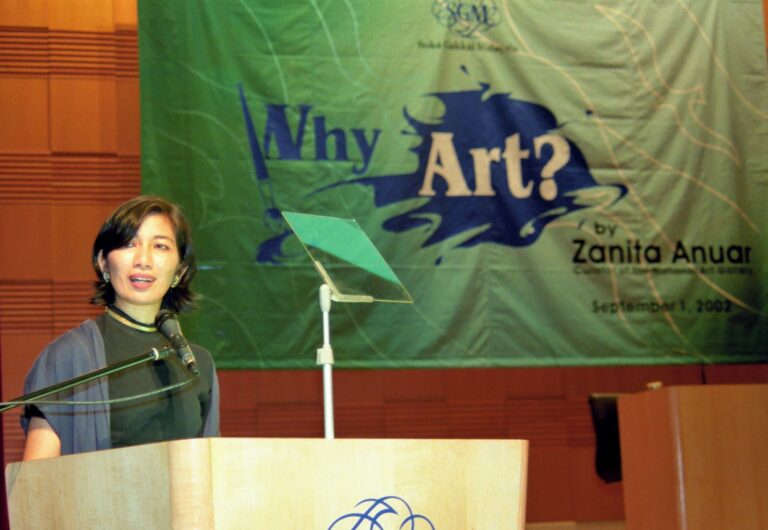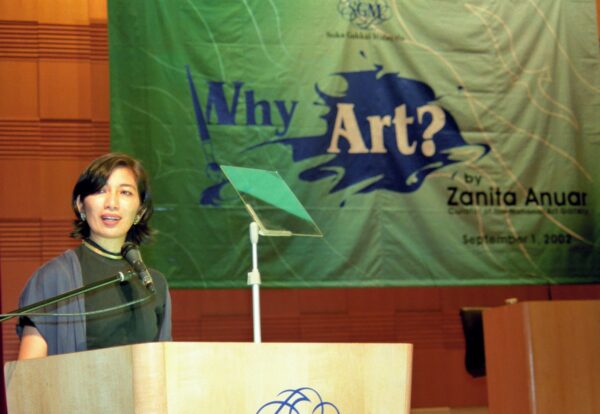 Zanita began her lecture by explaining the rationale for the title of her lecture. While 'art is everywhere' and much has been said about the 'what' and 'how' aspects of art, it is still not common for people to question the purpose of art itself. While preparing for the lecture, Zanita had put the question of "why art?" across to various artists. Most of the artists responded that their choice of vocation was instinctive, and that art was very much a personal journey and a call to express their inner lives.
According to Zanita, the need to create art is the most basic human urge, even at times of great agony; art is able to inspire hope amidst difficult conditions. Zanita illustrated this point by showing art objects made by prisoners of Camp Khiam situated in Israeli occupied territory, south of Lebanon. Despite being held in detention cells no bigger than one cubic metre, these detainees have managed to produce tiny meticulously crafted objects from their own clothing or sleeping bags, sewn with needles made from fish bones. In this respect, their art (which were eventually displayed in Paris) served as a cultural memory for the next generation.
Art then exists for something more fundamental; it is humanity's search for meaning to life and existence. Through their works, artists attempt to engage the viewers in a spiritual and transcendent experience. One of the artists that Zanita introduced was Tatsuo Miyajima, a Soka Gakkai member from Japan. Miyajima's ideas are inspired by his Buddhist beliefs and SGI President Ikeda's ideals of humanism. His artwork consisted of 300 LED panels that represented the continuous cycle and movement of life and death in the universe; each piece is unique and is interconnected to other pieces, forming a continuous flow.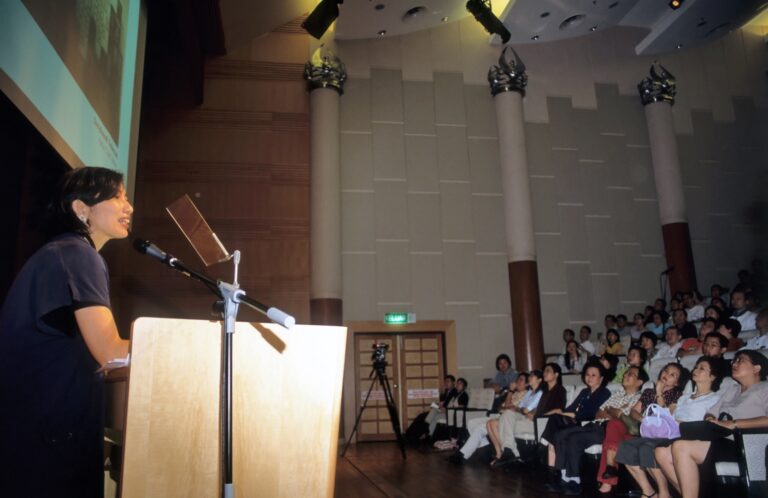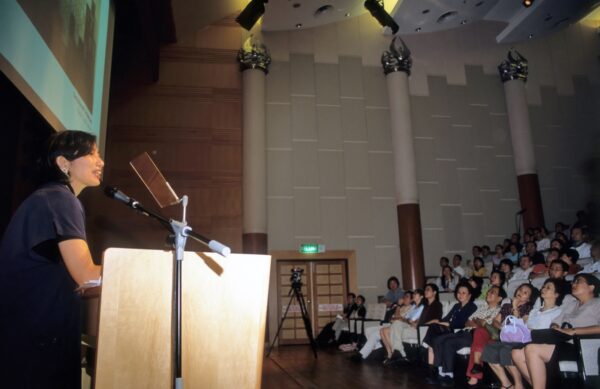 By introducing works from various artists like Rosemary Laing, Ramlan Abdullah and Jeganathan Ramachandran, Zanita said that art is sometimes created as a vision or prophecy of our future. Through their works, various artists have tried to show the malaise and imbalances that exist in our present technological age, and the directions humanity will be heading if we remain unchanged.
In the final part of the lecture, Zanita talked about the importance of giving due consideration to the artists' voices when evaluating artworks. More importantly, Zanita thinks that there is a serious need to question and discuss the purpose of art.
The question and answer session provided an apt ending to the lecture. The audience have learnt to appreciate the task of art better thanks to the insights into the world of art provided by Zanita Anuar. About 250 people attended this lecture including well-known artists such as Ramlan Abdullah, Sylvia Lee Goh, Chuah Chong Yong and Salmah Abu Mansor.