On 15 June, University of Malaya (UM) Press and Soka Gakkai Malaysia (SGM) launched a book entitled Kerakyatan Planet: Nilai Murni, Kepercayaan, dan Perilaku Kita Boleh Membentuk Dunia Berdaya Tahan at the auditorium of Asia-Europe Institute of UM, witnessed by an audience of some 130 people on-site and 70 online.
The book is the Malay translation of Planetary Citizenship: Your Values, Beliefs and Actions Can Shape a Sustainable World, published in 2004 and authored by environmental activist the late Hazel Henderson and SGI President Daisaku Ikeda. Presented in a dialogue form, they discussed the transformative power of "grassroots globalists" or ordinary citizens in taking responsibility to build a more peaceful, harmonious and sustainable future. The book has also been translated into Japanese, Chinese, Italian, Vietnamese, Portuguese and French.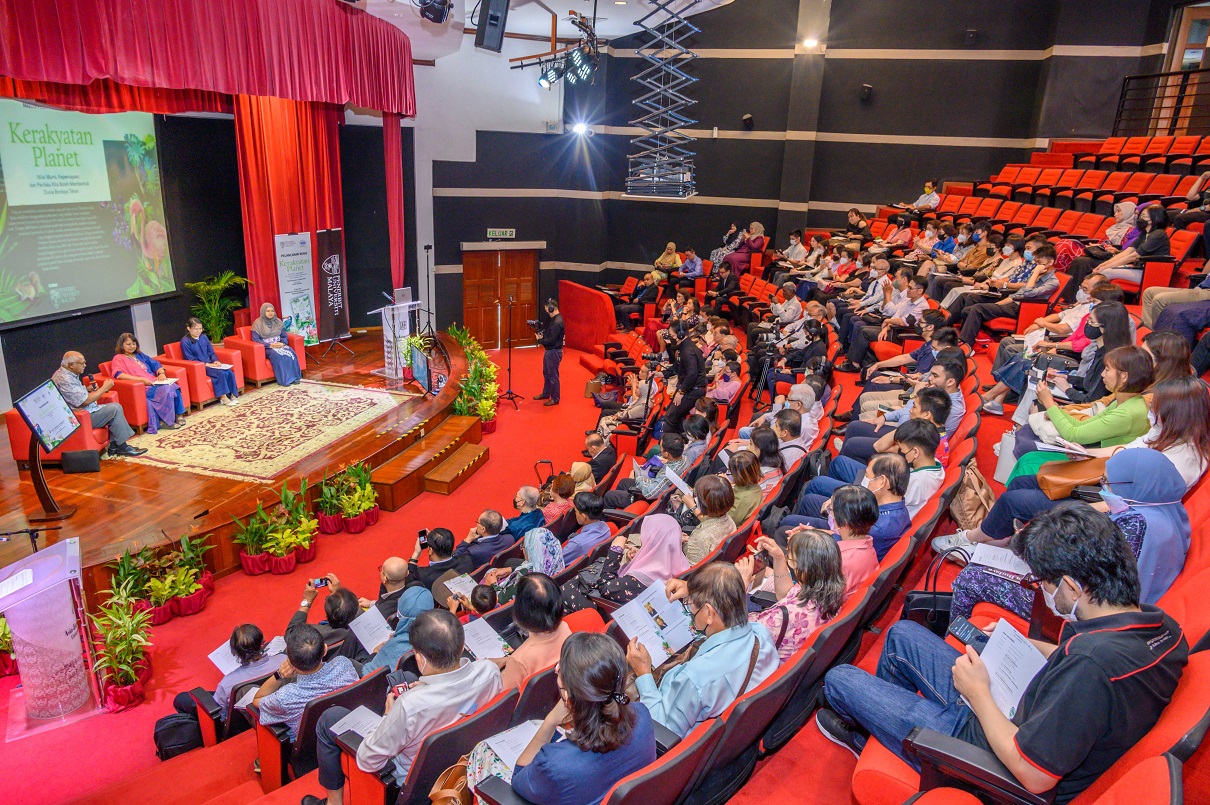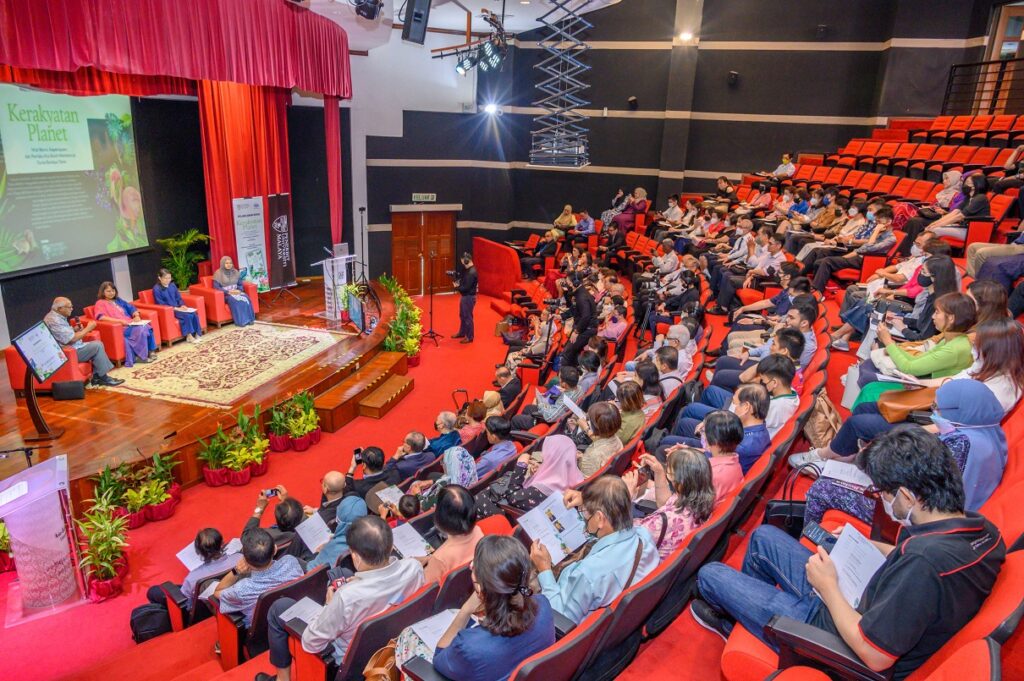 The launching ceremony was officiated by Secretary-General of the Ministry of Youth and Sports Dr Nagulendran Kangayatkarasu. In his address, Dr Nagulendran stated that the positive values discussed in the book are in line with the Malaysia Madani policy to create a civil society. He also said the beauty of the book lies in the fact that it provides hope to change the world into a better place. He emphasised the power of collective action, highlighting that every action taken by a single individual can have a significant impact.
Meanwhile, Deputy Vice-Chancellor (Academic and International) of UM Prof Dr Yatimah Alias presented a poem in her welcoming speech, highlighting the wonderful cooperation between UM Press and SGM in sharing universal knowledge. She also expressed her high hopes for future collaborations between the two organisations to produce more high-quality and significant publications that benefit the readers.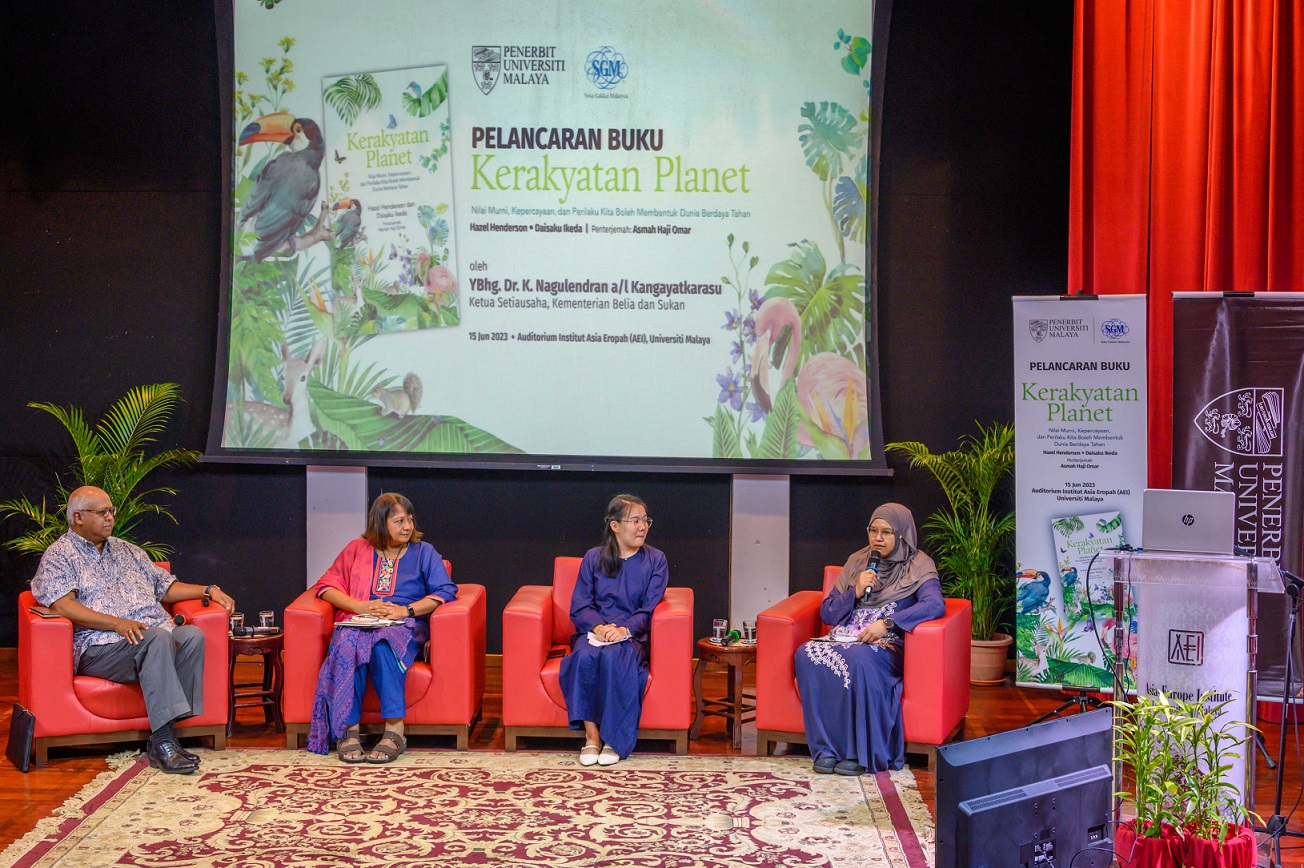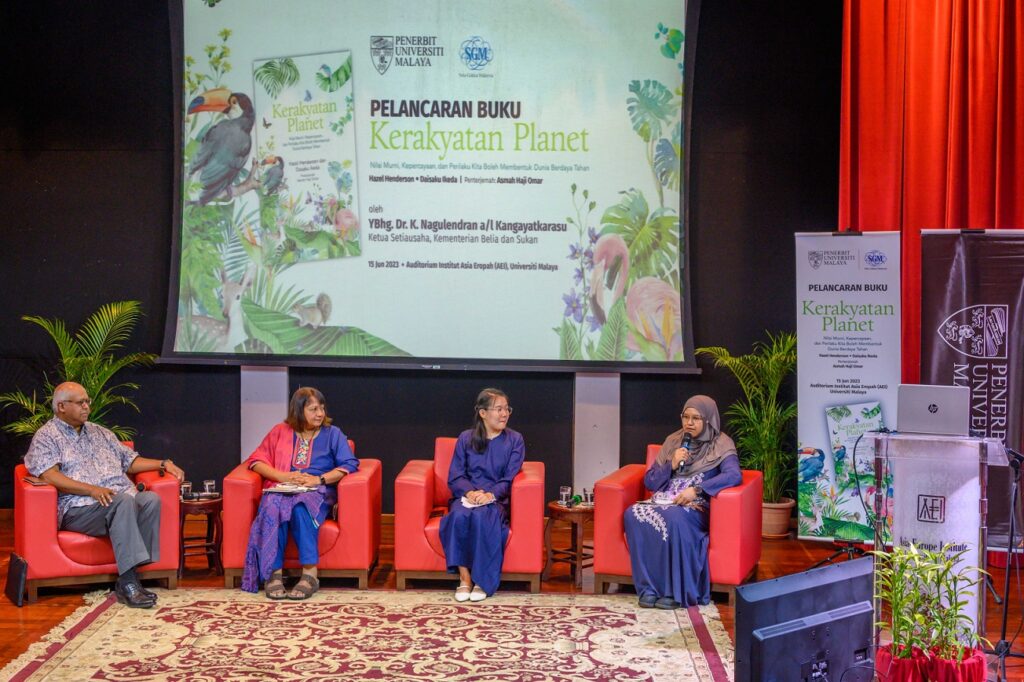 SGM General Director Koh Sia Feai then delivered a speech, mentioning that the two authors first met in 1998 and continued to collaborate on the book via written correspondence to convey the message that a global revolution begins with an inner-directed transformation in human beings.
Emeritus Prof Dato' Dr Hjh Asmah Haji Omar, who translated the book from English to Malay, expressed her admiration for the two authors who manifested profound wisdom despite not having the opportunity to receive formal tertiary education.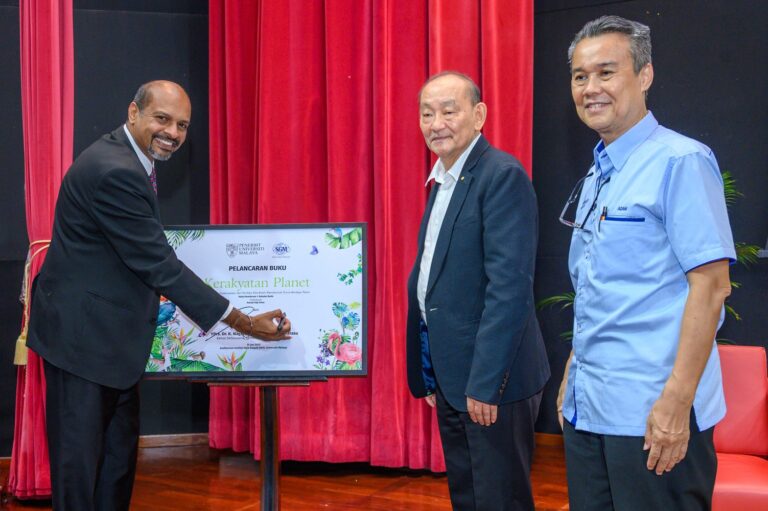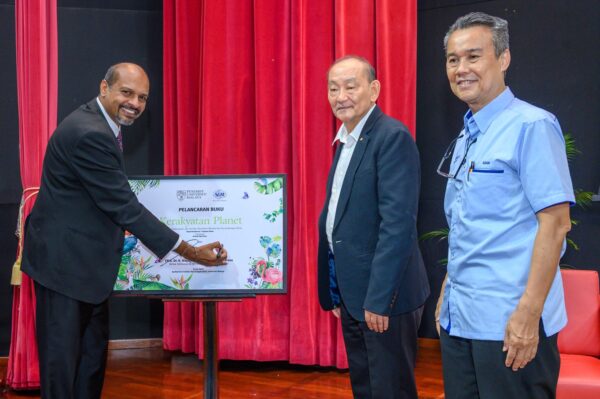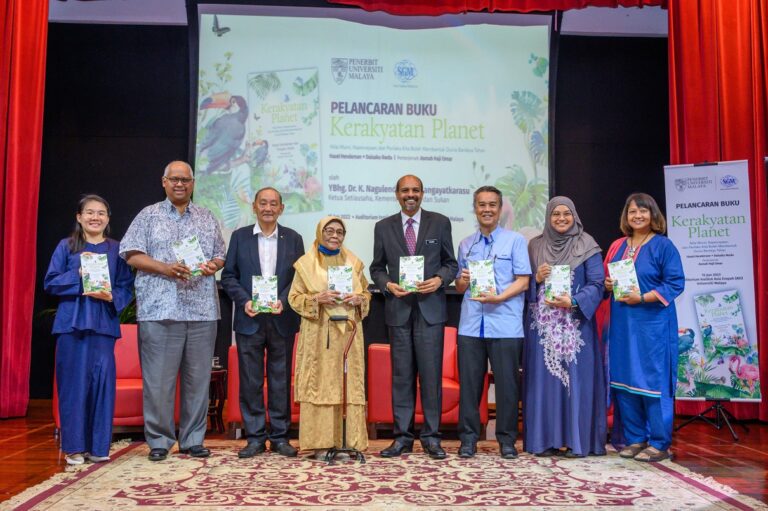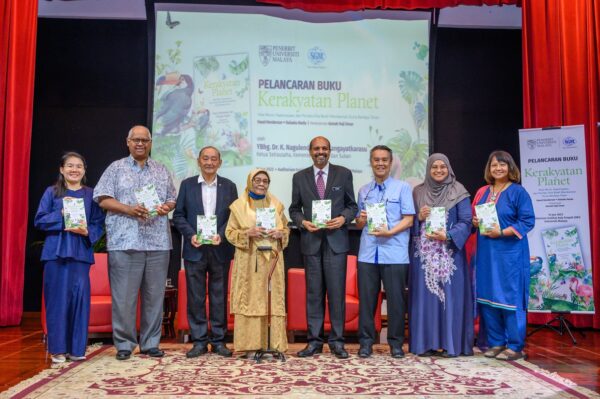 There was also a book review session moderated by the director of the Centre for Leadership and Professional Development of UM Datuk Dr Anis Yusal Yusoff. The panellists were the Associate Professor from the Education Faculty of UM Dr Vishalache Balakrishnan, UM PhD researcher Saw Poh Ai and the cofounder of a social enterprise named Knowledge New Old Twists (KNOTs) Nor Shidawati Abdul Rasid.
Among the topics discussed were the importance of dialogue and having mutual understanding, formal and informal education, as well as the interconnectedness of human beings and nature.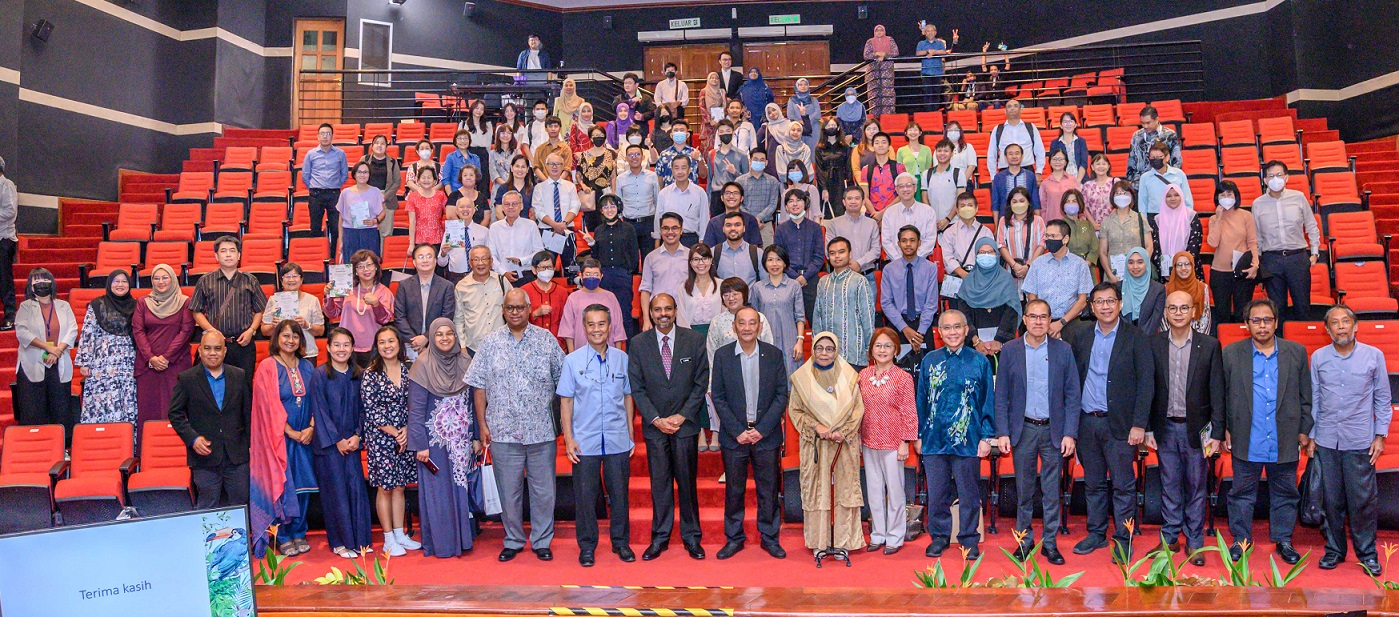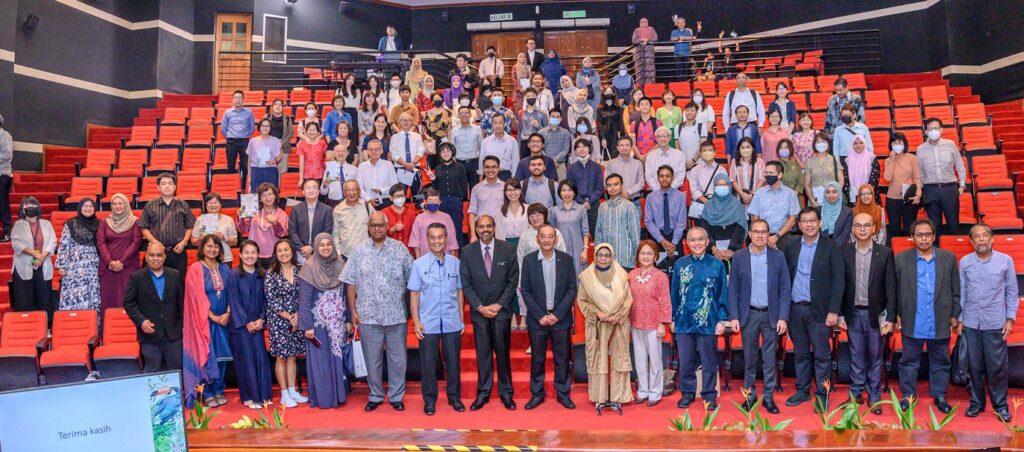 Impressions
Dr Nagulendran Kangayatkarasu, secretary general of the Ministry of Youth and Sports
Kerakyatan Planet, written by two world leaders namely Hazel Henderson and Daisaku Ikeda, puts things in perspective on how sustainability can be driven. The publication is timely as it serves as a guide for the public on how to move on to a better future, during this challenging post-covid period.
Datuk Dr Anis Yusal Yusoff, director of the Centre for Leadership and Professional Development of UM
What is important is for the readers to translate the messages from the book into action. We want people to live their lives respecting others, as well as taking care of the environment because mother earth is not something we inherit from our ancestors but something we borrow from our children.
Nor Shidawati Abdul Rasid, Cofounder of KNOTs
I am very amazed that the content of the book was written in 2004. The authors predicted the trends that are indeed taking place now. I believe this book would give inspiration to grassroot movements and community education.
Tuan Zainal Mohd Jais, president of Gabungan Persatuan Penulis Nasional Malaysia
The book plays an important role in rectifying Malaysian society. We often talk about fostering professionals such as doctors, lawyers and engineers, but ignore the importance of fostering individuals who care for their family, country and society. It is time for us to look into humanism.