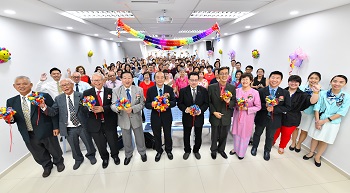 Sungai Siput, Perak
The expansion of SGM is also accompanied by the opening of more treasure castles in our country. The two latest SGM centres to open are the ones in Sungai Siput, Perak and Tampin, Negeri Sembilan (Editor's note: In SGM, Tampin is part of the SGM Melaka organisation).
In his message, SGI President Ikeda stated that, "It is my earnest wish that all of you will play increasingly active roles as good citizens while strengthening bonds of trust and friendship with people in your local community."
On December 1, 2018, the Sungai Siput Centre held its opening ceremony, which was attended by SGM general director Koh Sia Feai, SGM president Michael Kok, Perak branch chairman Lai Soo Ha, Perak state leader Woo Chee Seng and members from Sungai Siput and other parts of Perak.
Speaking on the development of kosen-rufu in Sungai Siput in 2017 and 2018, Many Treasures region leader Leong Kwong Wah said members here had successfully introduced 212 new members to Nichiren Buddhism, among whom 12 have enshrined the Gohonzon.
In addition, representatives from the four divisions also made resolutions to cherish this treasure castle and foster capable successors while working in harmonious unity with Sungai Siput members.
In his speech, Mr Koh once again congratulated the participants on the opening of this centre and urged all members to cherish this castle of hope just as what President Ikeda would do. He then encouraged the members to fully utilise it by engaging in dialogues and expanding the network of friendship in the community. As Perak is the second largest state in the country, Mr Koh also hoped that the state will continue expanding its rank and thus enable more people to transform their karma.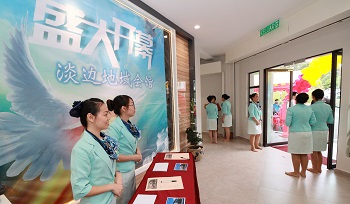 Tampin, Melaka
Meanwhile, the SGM Tampin Centre was officially opened on December 9, 2018. Present at the opening ceremony were Mr Koh, SGM women's division leader May Chan, men's division leader Dr Christopher Boey, Melaka zone leaders and members living in Tampin.
North Melaka region women's division vice-leader Lem Kue Lan spoke on the development of kosen-rufu in Tampin. She urged all present to strive alongside our mentor President Ikeda and make the centre a place where people feel at ease and welcomed.
Tampin chapter leaders representatives Wong Chee Keong, Kok Thye Yew, Chan Xian Wei and Peh Siew Ping, went onstage to share their resolution, which is to spread the wave of home-visiting and dialogues, eventually enabling great development in Tampin's kosen-rufu.
Later in his speech, Mr Koh praised Melaka members for not slackening in their efforts even after SGM had achieved 20,000 Professors of Happiness nationwide. They had continued working towards successfully achieving 540 Professors of Happiness in Melaka by November 18, 2018, with Tampin achieving 72 persons.
Mr Koh urged Tampin members to hold more chanting meetings at the centre and encourage the youth to constantly carry out dialogues, study President Ikeda's works and the Gosho, and spread President Ikeda's peace philosophy and ideals.
Lively performances by members of the four divisions also enlivened the atmosphere of the opening of both centres, marking a new milestone in the kosen-rufu history in Sg Siput and Tampin.