Since 2004, SGM has been conducting research on and editing the works of Hsu Yin Tsiao for the sake of advancing academic research. Till date, SGM has published ten volumes of The Complete Works of Hsu Yun Tsiao of the expected 23 volumes.
This Complete Works was launched on September 23, 2017 at a public lecture organised by the Tan Kah Kee Foundation, which was delivered by Dr Lew Bon Hoi, Head of New Era University College's Centre for Malaysian History. Dr Lew, who is also the deputy editor of this series, spoke of the achievements and contributions of Hsu Yun Tsiao in the academic world.
In his lecture, Dr Lew commended SGM for undertaking such a challenging task of compiling, editing and publishing the Complete Works for the benefit of society.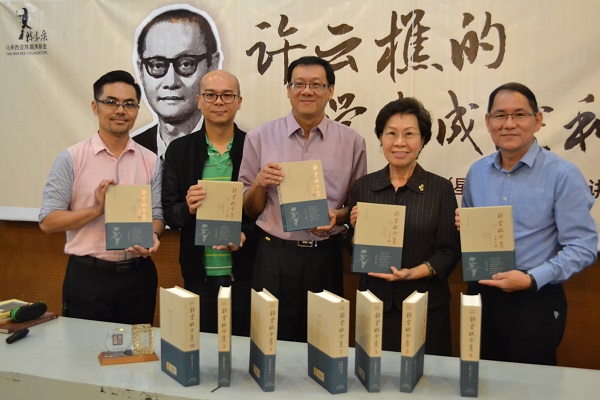 Hsu Yun Tsiao (1905–1981), was a renowned scholar of Southeast Asia history and culture. He dedicated his life to the development of Southeast Asia cultural studies, and made pivotal contributions to the body of academic knowledge in the fields of culture and education. Embracing the spirit of "it is never too old to start learning", Prof Hsu worked throughout his life, leaving behind a large body of research and writings.
SGI President Daisaku Ikeda often stressed it is important to contribute to the good of society. It was in this spirit that the late Mr Koe Teng Hong, SGM's first General Director, initiated the publication of The Complete Works of Hsu Yin Tsiao, hoping to make an important contribution to culture and education in Malaysia.
To know more about the Complete Works, please go to http://sgm.org.my/hyt/ (Chinese only)