On October 12, 2019, Tadika Seri Soka (TSS) held its milestone 25th graduation ceremony for 122 graduating children at SGM Culture Centre. This ceremony is a testament to the kindergarten's successful efforts in pre-school education for over quarter of a century.
TSS founder Daisaku Ikeda has sent a congratulatory message to celebrate this occasion. He says, "Each and every one of you possess within your lives, a wonderful treasure that is uniquely yours." He urges the graduates to continue studying and bravely take on challenges so that the "treasure" will shine even brighter.
In welcoming the audience, principal Lye Loy Hou stated that children are the future pillars of the country and that they have unlimited potential to be what they wish to be. She urged the graduating children to live true to the mottoes of TSS – "Strong, Righteous, and Lively." She also expressed deepest gratitude to the parents and teachers for their full support and selfless contribution.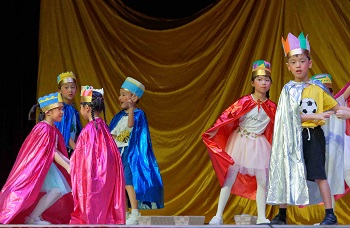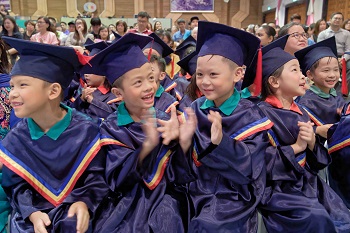 TSS's board chairman Prof Dato' Dr Christopher Boey asked the graduates to recite a few passages from the founder's message, and reminded them to "continue to advance cheerfully in high spirits with an invincible heart." He also told a story and encouraged them to never give up no matter what, and always help others with a bright smile.
After receiving their graduation diplomas, the children presented a musical drama titled The Princess and the Moon, which is based on a children's book of the same title written by TSS founder Daisaku Ikeda.
The drama tells about a girl who is initially shy and does not maintain a healthy lifestyle. She travels to the moon with the help of the Great Rabbit and meets with people who change her life. She also helps a schoolmate to become friends with everyone around her.
During the finale, they sang the theme song titled "Oh, The Moon's So Big" for their parents and guests, which also signifies that their pre-school journey has ended and another exciting one is waiting for them in the future.