SGM, Rakan TPNW (Friends of the TPNW) and Tarinao has supported the "Nuke-Clear" campaign, a month-long event featuring "Youth against Nuke," organised by Year 2 students of Bachelor of Public Relation from Tunku Abdul Rahman University College (TARUC).
In the online opening ceremony held on April 6, 2021, Professor Ir Dr Lee Sze Wei, President of TARUC, said in his speech that TARUC has been emphasising on quality education and although Malaysia does not have nuclear weapons, all educators, students and the society are responsible for educating youth and the future generation about the importance of anti-nuclear activities.
Later, Dearna Kee June Chen, dean of TARUC's Faculty of Communication and Creative Industries, said that this campaign was a peaceful revolution for a brighter future and that the youth of today are the leaders of tomorrow, expressing her high aspiration for the youth.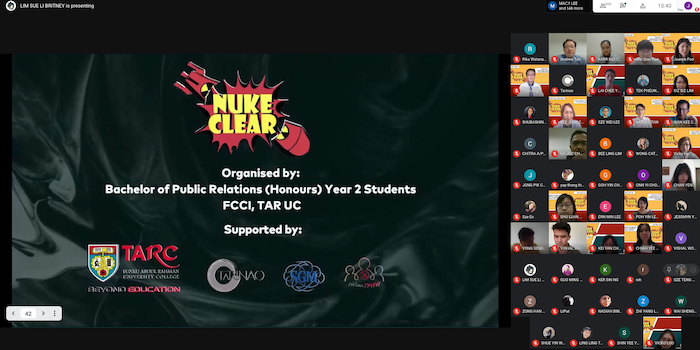 On that day, an educational talk was also being held. Tan Leng, secretary-general of SGM; Rika Watanabe, the international coordinator of Peace Boat Project; Ayako Kozuka, a survivor of the Hiroshima atomic bombing; and Prof Emeritus Tan Sri Dato' Dzulkifli Abdul Razak, the son of a Malaysian survivor of the Hiroshima atomic bombing and also the rector of International Islamic University Malaysia (IIUM), shared some of their journey towards anti-nuclear movement, the importance of TPNW universalness and testimonies from atomic bombing survivors (the hibakusha).
On this online programme held from April 6 to 8, the agenda includes dance and music performances integrated with anti-nuclear and peace messages by local dancers and musicians. Also, public speaking and drawing contests in which SGM representatives were some of the judges were being held too.
Besides these, a 3D virtual exhibition was available online from April 6 to 14 through the Kunstmatrix platform. It exhibited some of the historic artworks sourced by Hiroshima Peace Memorial Museum and several panels of "Everything You Treasure – For a World Free from Nuclear Weapons" exhibition created by ICAN and SGI. 
Tan Leng

Short film "Frida" who travel back in time
to save the world form nuclear warfare
Aside from TARUC staff members and students, this campaign also received warm response from representatives of anti-nuclear and international organisations from local and overseas. There were also some 30,000 interactions on social media platforms and thousands of people liked the posted articles.
Sharing on Peace Exhibition
Earlier on March 24, 2021, SGM also organised an online sharing session on "Everything You Treasure" exhibition for 125 TARUC's Bachelor of Public Relations students and advisers. This session was held to increase their awareness and knowledge on the destruction caused by nuclear weapons usage.
SGM's Head of External Affairs and Communications Joanne Foo and youth representatives shared about the impact of nuclear weapons from various perspectives, as well as the implications of the Treaty on the Prohibition of Nuclear Weapons (TPNW) for nuclear disarmament. The students also discussed what they treasured the most in life and what they could do to protect the people or things that they treasure.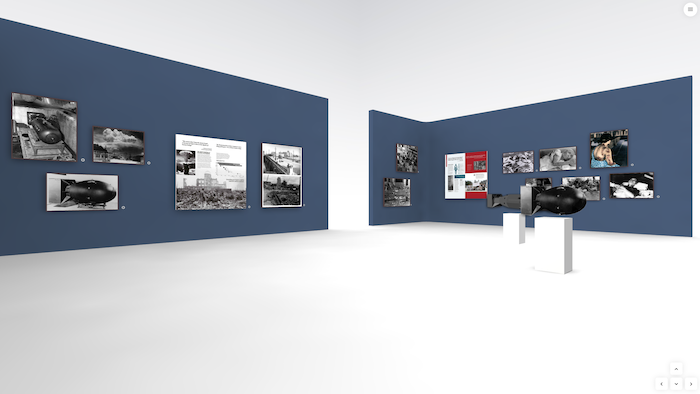 Virtual Exhibition
Impressions 
Ms Yeow Lai Chee, adviser of the "Nuke-Clear" campaign, said that many young people are working together to fight against nuclear weapons and it motivated her to go further in this movement to abolish nuclear weapons and build a world without nuclear for the future generation.
Jessmyn Yong, project director of "Nuke-Clear" campaign, said that she likes the encouraging and hopeful spirit the SGM team brought to the session. She is also clearer about the goals she wants to strive for.