After last year's SGI Day Peace Proposal forum and this year's visit to the Rohingya Refugee School in Klang in March, members of the SGM Selangor Student Division collaborated with the offices of the United Nations High Commissioner for Refugees (UNHCR) and visited the refugee school again on April 23, 2017 to show their support and sympathy for the community consisting of fifty-one children and youths as well as over ten women.
The participants included SGM Youth Division Leader Chia Kok Peng and twenty leaders of the SGM High School and Student Divisions as well as forty students from the Centre for Civilisational Dialogue, University Malaya (UMCCD).
Leading the visitors was Tan Sri Dato Prof Dzulkifli Razak, President of the International Association of Universities who expressed his appreciation for the efforts put up by SGM and Universiti Malaya in the project, irrespective of race, religion and nationality.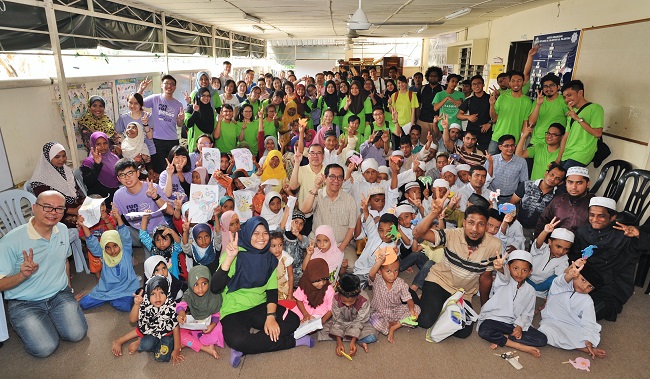 SGM Deputy President Johnny Ng Teck Sim said that Buddhism speaks of sharing good and bad times with our neighbours. The event gave the refugees encouragement and hope and at the same time created awareness about the challenges they are facing. In recent years, SGI President Ikeda has stressed on the protection of refugees' welfare in his peace proposals presented to the United Nations.
UM senior lecturer and UMCCD representative Dr Wendy Yee led the students in interacting with the refugee youth. She said that the meeting of the two groups would enable the SGM youth to understand the plight of the refugees and develop caring attitudes towards society. The High School and Student Divisions members also taught the women residents techniques in making handicrafts.