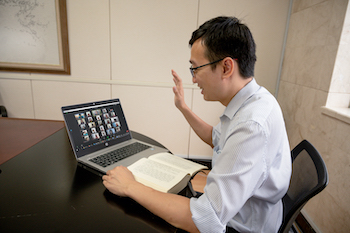 From March to August of this year, SGM student division (SD) has held 46 student division (SD) Akademeia Training Gosho Study meetings for some 2,000 SD members. Participants studied "On Establishing the Correct Teaching for the Peace of the Land," one of Nichiren Daishonin's most important writings.
In each study session, two SD representatives will present their research content on this Gosho. The content of the research included the key concepts within this Gosho; the relationship between establishing the correct teaching and peace of the land, and how to establish the correct teaching within our lives and in society.
SD members actively asked questions and pondered global issues, and how to practise the spirit of "establishing the correct teaching for the peace of the land," especially during this challenging period when the COVID-19 pandemic is still raging.
In sessions he attended, SGM student division leader Chang Chung Bin encouraged participants to become persons with both wisdom and courage, and do their best to protect the people. After attending the meeting, SD members strengthened their understanding of the SD's mission, which is to always take action, be modest and eager to learn, and be willing to endure hardships. SD members resolved to study wholeheartedly and conduct dialogues with others.