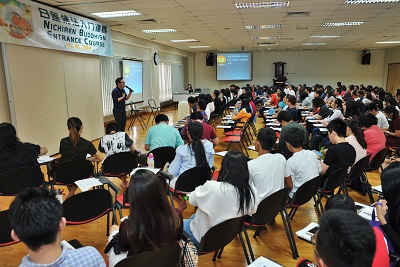 In conjunction with SGM's expansion activities, SGM state branches have been holding the Nichiren Buddhism Entrance Course (NBEC) in their respective states. NBEC enables new friends and new members to gain a better grounding in the basics of Nichiren Buddhism. Previous courses held in 2017 have left a good impression for the participants who found the sessions interesting, lively and inspiring. In fact, some attendees decided to practise Nichiren Buddhism after attending the NBEC, contributing to SGM's success in the shakubuku of 10,000 Professors of Happiness last year.
On January 7, SGM Selangor held its second NBEC, with 250 participants, at the SGM Selangor Culture Centre. Speakers spoke about the transmission of Buddhism, the life of Nichiren Daishonin, the Soka Gakkai and its movement for peace, culture and education. Participants also learnt about chanting Nam-myoho-renge-kyo and the correct attitude during praying, and the Ten Worlds, which speak about the various life-conditions that exist in our lives. Participants from the previous NBEC also came to share their experiences in faith that have developed after attending the course.
Participants provided encouraging feedback on the course, and expressed their desire to bring new friends to the course so that their friends too can benefit and begin their journey of self-transformation and happiness.
Neishanthiney Sugumaran became a SGM member after this course, stating that she was impressed by the teachings of Nichiren Buddhism which stresses compassion and the true purpose of our existence, which is to enable ourselves and others to become happy.