In order to foster youthful successors who shares the great vow for worldwide kosen-rufu with their mentor and put that vow into action, SGM will be holding "I Seek Sensei" youth seminars for district and above youth leaders nationwide. The training course, which will be held four times this year, carries the theme "The Role Model of the Oneness of Mentor and Disciple."
The first of these courses was held on January 21 at the SGM Mentor and Disciple Peace Hall (MDPH) in Wisma Kebudayaan SGM (WKSGM), with the participation of around 100 leaders from Kuala Lumpur, Selangor and Negeri Sembilan. During the course, they visited the Victory Room, Shared Struggle Room and the Mentor and Disciple Room, where they learnt about the struggles of the three founding presidents of the Soka Gakkai and the importance of youth becoming successors to their work.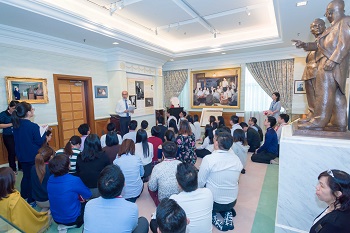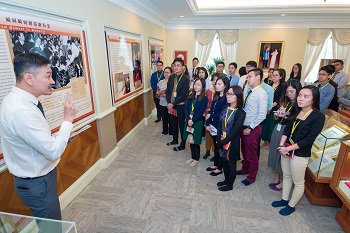 Prior to attending this course, the participants studied the books The Path of the Mentor published by SGM, and selections from "The Wisdom for Creating Happiness and Peace" series published in Flow.
SGM General Director also performed gongyo with the participants in the Mentor and Disciple Room, where he also encouraged the participants to realise the mentor-disciple spirit in their lives, steadfastly walk the path of mentor and disciple and always remain in the organisation.
Cheah Ming Pei from Selangor stated that this training course made her felt closer to President Ikeda, and made the determination to take the lead in activities in her district. Ho Joe Yee, also from Selangor, aims to dedicate his life to kosen-rufu and protect SGM and its members. Ming Pei was visiting the MDPH for the second time while for Joe Yee, it was his first. Low Phui Wah from Kuala Lumpur was visiting the MDPH again after five years and vowed to work hard at her job to show actual proof of her Buddhist practice.