The SGM Petaling Jaya Centre in Kota Damansara, Petaling Jaya, Selangor, was opened on December 2, 2007, serving as the main centre for SGM members in Kuala Lumpur Region 2. To celebrate this auspicious occasion of the centre's tenth anniversary last December, Kuala Lumpur Region 2 held various events throughout December.
On December 2, a series of talks were held at the centre. Motivational speaker Sam Leong spoke on "Transforming Goodness to Greatness", where he spoke on transforming attitudes in order to change our life. This was followed by a SGM Justice Group presentation on preventing financial crisis.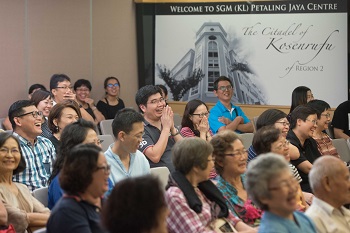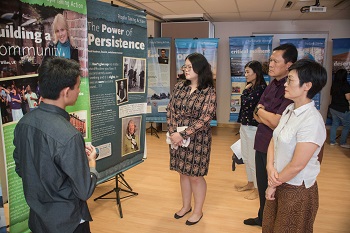 Traditional Chinese medicine practitioner Hing Siew Eng spoke on maintaining health and wellness through Chinese medicine, which also touched on consuming tea and acupuncture, and tips on do-it-yourself methods on staying healthy. Her talk was followed a by a talk on depression by clinical psychologist Wong Siew Lee, who is based in Penang. Her talk was interspersed by a sharing from SGM member Lew Kai Seng who spoke about his struggles with depression.
The four talks were attended by some 420 people. The "Seeds of Hope" exhibition was also on display, with 40 Youth Division members serving as narrators.
On December 17, SGM Kuala Lumpur Region 2 worked hand-in-hand with the Lions Club of Kuala Lumpur North (Lions KL North) to organise a blood donation-cum-organ pledge campaign at Sunway Nexis near the centre. Lions KL North president Nicholas Ching was present at the event. At this event, 33 people signed up to become organ donors and 135 packets of blood were collected.