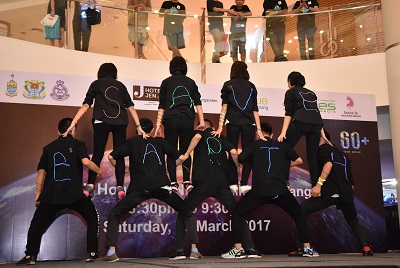 On March 25, the World Wildlife Fund's (WWF) Earth Hour rolled across the world once again. An unprecedented 187 countries and territories took part, with over 3,000 landmarks switching off their lights and millions of people across seven continents joining forces to shine a light on climate change action.
Earth Hour is a global environmental campaign to gather society to take a stand against climate change, and create a stronger awareness about climate change mitigation. In Penang, the Earth Hour commemoration was held at First Avenue Mall, organised by WWF-Malaysia and the Penang City Council.
"Earth Hour is not just about going dark for a single hour every year. It calls us to review and change our overall lifestyle and reduce our carbon consumption throughout the year. Earth Hour reminds us to care for our environment and natural resources," said state executive councillor YB Chow Kon Yeow. The Penang state government views continuous sustainability efforts seriously, and was a finalist for WWF's Earth Hour City Challenge 2016.
Various events were held that day, including exhibitions, talks, art activities, a Night Walk and music and culture performances. Ten dancers from SGM Penang's Rainbow Dance Group performed a positive energy modern dance urging people to be optimistic in facing difficulties. They wore self-made costumes equipped with electroluminescent wire, aiming to drive home the message of saving energy for the sake of our planet.