On March 27, the Institute of Islamic Understanding Malaysia (IKIM), in collaboration with the Global Movement of Moderates Foundation (GMMF) organised an international symposium entitled "Moderation in Multi-Religious Societies: Towards Peace and Harmony." Held with the aim to promote the approach of moderation in achieving peaceful co-existence in today's multi-racial and multi-religious societies, some of the objectives of the symposium included exposing participants to the relationship between religion and peaceful co-existence, analyse how moderation can solve conflicts in a multi-religious society and curb the spread of extremist ideas and fundamentalism.
On hand to officiate the symposium held at IKIM's Grand Hall was Deputy Prime Minister YAB Dato' Seri Dr Ahmad Zahid Hamidi. Also present were Minister in the Prime Minister's Department YB Major-General (R) Datuk Seri Jamil Khir Baharom, GMMF executive chairman Datuk Dr Nasharudin Mat Isa, academicians, and representatives from religious institutions and non-governmental organisations. SGM was also invited to participate, and representing SGM were Dr Angela Ng, Ms Wan Yoke Ping, Mr Loke Weng Cheong and Mr Chia Kok Peng.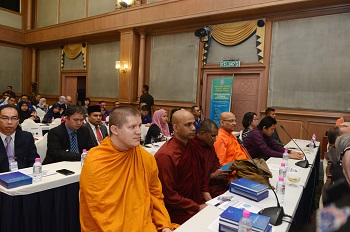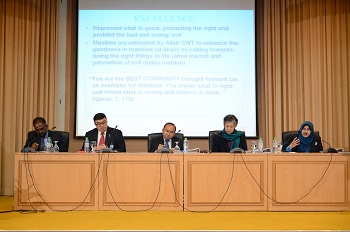 In his speech, Dr Ahmad Zahid called extremism and radicalism diseases that could destroy a society and called on the moderates of all faiths to uphold the agenda for peace and promote mutual acceptance, respect and harmony among our societies. He also said that the best mechanism to increase mutual understanding and share religious perspectives among such societies was through dialogue. Moderation is essential to such a diverse environment, he added, in order to preserve unity, tolerance and justice, leading to a lasting co-existence.
Also discussed at the symposium were topics that included justice for all, preserving religious harmony and religious perspectives on moderation from main religious groups. The points raised in the symposium were highly relevant and timely in view of a diverse world that is increasingly threatened by chaos, disunity and the influences of fundamentalist and extremist ideologies.