In order to deepen the understanding of Soka friends and new SGM members regarding Nichiren Buddhism, three state branches – SGM Kuala Lumpur, SGM Selangor and SGM Negeri Sembilan – held the Nichiren Buddhism Entrance Course (NBEC) on March 25, 2018 at their respective culture centres, with the Kuala Lumpur NBEC being held at the SGM Culture Centre in Cheras.
The course was divided into four sections. The keynote speaker explained the important concepts of Buddhahood and the ten worlds, such as the "mutual possession of the Ten Worlds", the "nine worlds are all present in Buddhahood" and how the ten worlds are all inter-connected. The speaker came to the conclusion that the purpose of faith was to enable the practitioners to feel that no matter what they encounter, they will feel the incomparable joy of Buddhahood.
| | |
| --- | --- |
| | |
| Negeri Sembilan | Kuala Lumpur |
| | |
Speakers also spoke about the significance of Nam-myoho-renge-kyo and how chanting this phrase can lead to transformation of our lives. The last two topics discussed were the lineage and tradition of Buddhist humanism, and the history of the Soka Gakkai and the three founding presidents. Following the presentations, participants and speakers held a lively question-and-answer session.
In the NBEC held in Kuala Lumpur, Women Division member Ho Ai Wei shared her experience in faith, telling of how she changed her life and created happiness. Through faith, she battles systemic lupus erythematosus (SLE), an autoimmune disease, which was sometimes life-threatening, and overcame fear of marriage and bringing up a family, demonstrating actual proof of the power of faith and that living itself is happiness. She has also forged a victorious path in life and has been happily married for over a decade with a son.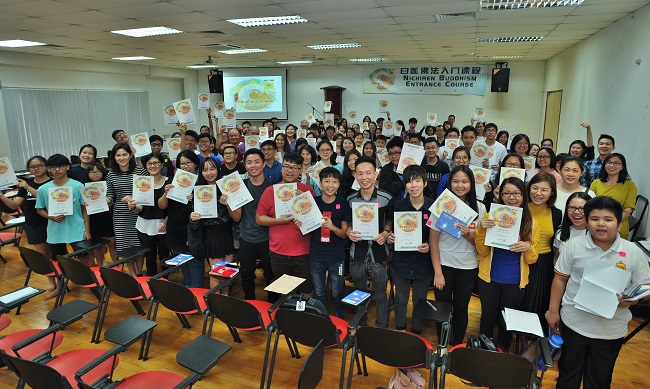 Selangor
A total of 205 people participated in the course held here, which was divided into Chinese and English sessions. Among them, eight became SGM members on the same day. One of them, Grace Hoh Weng Han, said that the course gave her a chance to learn the correct philosophy of life, stating that this is a religion with a solid basis and has the power to enable people to overcome their problems. In particular, she was impressed with the interpretation of the Ten Worlds and understood the need to practise the principle of substituting faith for wisdom. She was also deeply impressed by Ai Wei's strong life-force in achieving her own happiness, she determined to share this Buddhism with people around her.