On February 17, the Tourism, Arts and Culture Ministry and Negri Sembilan government jointly organised the national-level Chinese New Year open house at Dataran Centrio, Seremban 2. SGM Negeri Sembilan was invited to perform in this grand event which was attended by some 15,000 people.
The guest-of-honour was Prime Minister Tun Dr Mahathir Mohamad, who was also accompanied by his wife Tun Dr Siti Hasmah Ali. Also present were Deputy Prime Minister YAB Datuk Seri Dr Wan Azizah Wan Ismail; Minister of Tourism, Arts and Culture; Menteri Besar YAB Datuk Seri Aminuddin Harun, Cabinet ministers and others. The event was officiated by the Prime Minister beating the 24-season drums.
Eleven SGM Negeri Sembilan dancers presented dances titled "Boisterous Courage" and "Good Fortune", enlivening the occasion. They also joined other performing groups such as the Istana Budaya Art Group and Seremban Chung Hua High School in welcoming guests in traditional Chinese and Malay costumes.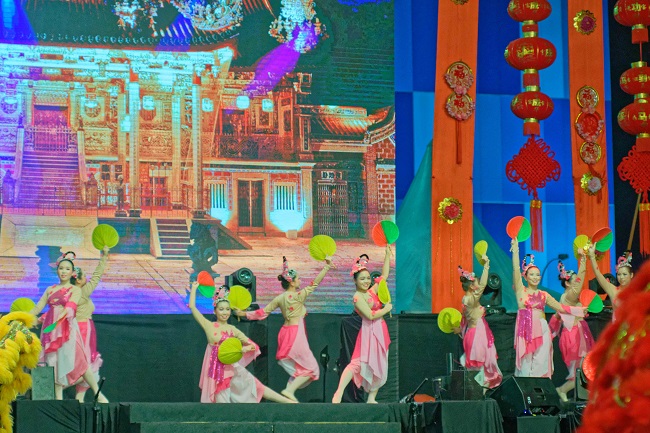 The performances highlighted the ethnic diversity of our country and the spirit of appreciating different cultures among Malaysians. A lion dance and 24-seasons drum performance were also part of the show.
When interviewed, Istana Budaya Director-General Dato' Mohamed Johari Shaarani expressed his appreciation to SGM for their collaborating with and supporting Istana Budaya. Negeri Sembilan National Department for Culture and Arts (JKKNNS) director Mohd Radzi Omar also praised SGM for its excellent performance and presentation. Transport Minister YB Anthony Loke also praised the efforts of SGM performers in this celebration.
The event was broadcasted live by RTM. In the run-up to this event, scenes of SGM Negeri Sembilan members practising and rehearsing at their culture centre were shown via delayed telecast on February 13 over national television. RTM also interviewed SGM Negeri Sembilan chairman Dato' Chong Khin Sang, whee he explained the ideals of SGM and the content of the performance.