On December 27, 2020, SGM Negeri Sembilan held two online lectures entitled "COVID-19 Vaccines: Questions and Answers" to some 230 participants in total.
The morning session was held in English with Dr Bee Boon Peng, a paediatrician practising in Seremban, as the speaker and Tay Seng Key as the moderator. Meanwhile, the afternoon session was held in Mandarin with Dr Bee Chern Thern from Tuanku Ja'afar Hospital in Seremban as the speaker, and Tay Seng Sing as the moderator.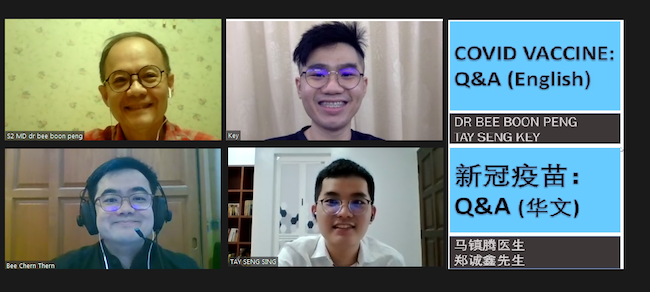 In both sessions, the speakers provided basic information on the vaccines, their importance and history of development. They later explained the current progress of COVID-19 vaccines, their differences and uses.
Finally, the doctors stressed that since the vaccines are still in the clinical trial phase in Malaysia (at the time of the lectures), the public should always follow the SOPs to avoid being infected, even receiving vaccine shots. They also urged the participants to obtain information through correct channels.
Both doctors have deepened the participants' understanding of vaccines, thus eliminating any fears caused by lack of understanding.