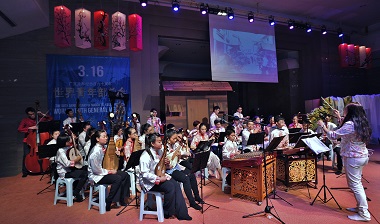 Selangor
On February 16, the first day of the Year of the Dog, SGM members throughout the nation gathered in great cheer at SGM centres nationwide for the Lunar New Year gongyo meetings. This was yet another joyous gathering taking place after SGM achieved 10,000 Professors of Happiness on January 2 and as SGM was advancing towards the World Youth General Meeting on March 11.
In his message for the gatherings, SGM General Director Koh Sia Feai urged all members to not let up on their efforts in this crucial year, and continue to strive to create a history of brilliant achievements for SGM, constructing a new dawn of kosen-rufu for our country.
Each state presented various programmes to enliven their respective gatherings. Many of the participants are those returning to their hometowns for the celebrations and catching up with family and friends over the holidays. These gatherings brim with the spirit of the "February Campaign" as SGM strived to achieve 6,000 youthful Professors of Happiness to adorn the World Youth General Meeting on March 11, making this Lunar New Year one of profound significance.
Kedah

Johor

Kuala Lumpur

Pahang

Penang

Perak

Sabah

Terengganu