On April 27 and 28, 2019, SGM Johor held a book fair themed "Let's Make Books Our Best Friends" and a Tay Lian Soo art exhibition at its culture centre.
In the book fair, the books displayed included SGI President Ikeda's published dialogues, essay collections, The New Human Revolution and The Human Revolution serialised novels, and others. An adjacent venue exhibited 26 art and calligraphic works by the late Prof Tay Lian Soo, a renowned local educator who made numerous contributions to Malaysian Chinese studies. Prof Tay, who hails from Johor Bahru, Johor, once taught at the University of Malaya and Southern University College (SUC), Johor.
During the opening ceremony held on April 27, Deputy Minister of Education YB Teo Nie Ching said that the Ministry of Education has planned to shape Malaysia into a "Reading Nation" within the next ten years. By sharing her own experience in reading, she said that one of the keys to promote a culture of reading is to work with the public, and she lauded SGM's efforts to promote reading through this event.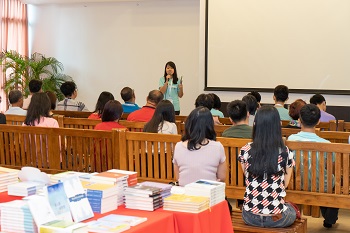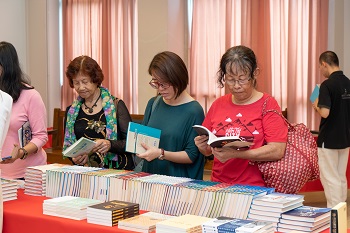 In his welcoming remarks, SGM Johor chairman Datuk Ng Chong Boon mentioned that SGM is an organisation that promotes peace, culture and education. This event aims to encourage more people to read good books as reading is one of the ways to pursue truth. He described Prof Tay as one of Malaysia's noted scholars and he hoped that the audience will explore and appreciate his artworks.
A reed pipe wind instrument performance and fan dance were presented during the ceremony that welcomed some 800 people, including guests from various spheres.
Sharing sessions on The New Human Revolution was also held. In one of the sessions on the 27th, Wong Voon How, research officer to Skudai assemblyman YB Tan Hong Pin, shared his impression of the "Ties of Trust" chapter.
The following day, a launching of the "Great Mountain" chapter of The New Human Revolution was held. SGM Johor members shared their impressions of reading this chapter, stressing the importance of protecting the organisation of kosen-rufu.