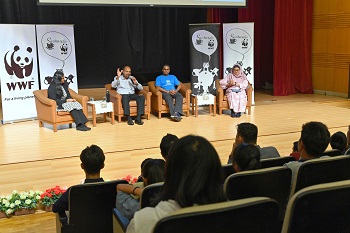 Forum
In conjunction with SGM's Month of Sustainable Development and International Earth Day, together with World Wide Fund for Nature – Malaysia (WWF-Malaysia), SGM hosted a youth forum themed "Joining the Conversation: No Plastic in Nature" on April 27, 2019 at Wisma Kebudayaan SGM (WKSGM). This event was aimed to provide youth a platform to share their thoughts about environmental sustainability activities through story-telling. WKSGM is hosting this event for the second time, the first being in April 2017.
When giving his welcoming speech, SGM assistant chief administrator Looi Chee Choong mentioned that SGM shares a common idea with WWF in that they both believe that youth are the ones who will change the destiny of humanity. WWF-Malaysia executive director and CEO Sophia Lim hoped that through dialogue and social influences, youth will be able to increase the people's awareness of the environment.
Dr K. Nagulendran, deputy secretary-general (energy and climate change) at Ministry of Energy, Science, Technology, Environment and Climate Change (MESTECC) said that youth have the power to impress people, even their family members, to join the ranks of changing the current situation. Just as what SGM initiated, he urged the people to live harmoniously with nature as all creatures on Earth are interdependent upon each other. 
| | |
| --- | --- |
| | |
| Launching of Living Planet Center | Opening Performance |
| | |
Students from primary and secondary schools were invited to speak on recycling plastic, alternatives to plastic and restricting the usage of plastic, among others. Chong Xin Yi from SMK Damansara Jaya in Petaling Jaya, Selangor said that recycling alone is insufficient to protect Mother Nature, and that we should look at reusing and reducing the usage of plastics. Nor Farahaini Zainudin from IPGK Perempuan Melayu (Malay Girls Teachers Training Institute) in Melaka opined that we should use plastics wisely instead of banning its manufacturing outright as it has improved our lives.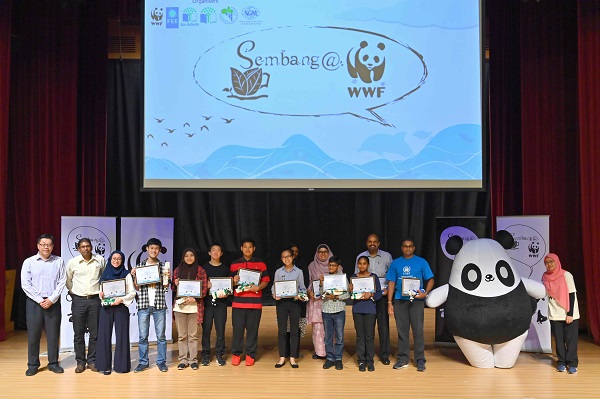 This was followed by a forum moderated by WWF-Malaysia marine policy manager Shantini Guna Rajan. Three speakers namely Dr K. Nagulendran; Dr S. Siri Umeswar, founder and CEO of Era Suria Ecopreneurs Sdn Bhd and Nor Shidawati Abdul Rashid, senior manager of WWF-Malaysia (formal education) were invited onstage to share their opinions on the effects of the usage of plastic on nature.
The 200-strong audience learnt about the myths surrounding plastic, the pros and cons of using plastics and on how to make wise decisions on using plastic.