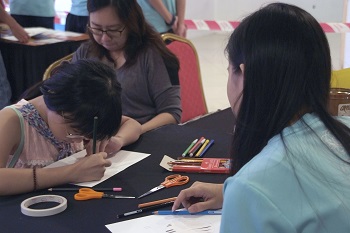 On December 29 and 30, 2018, the International Human Solidarity Day, organised by Raffles University Iskandar (RUI), was held at Capital City Entertainment Mall, Johor Bahru. This event was held to raise awareness of social issues such as poverty, human equality and human rights.
SGM Johor conducted a children's workshop to inspire them in contributing to the community. In one of the activities, the participating children made by hand a pop-up book entitled "I am a Hero" with 15 members of the SGM Johor student division.
In addition, SGM Johor representative Joanne Low also introduced the ideal of SGM during the opening ceremony. Also present at the ceremony were RUI sales and marketing manager Jack Poh, education consultant Denise Oon and artist TY Kaw.
Besides making the pop-up book, activities such as drawing, a forum, exhibition and painting by TY Kaw also received warm response from the participants.