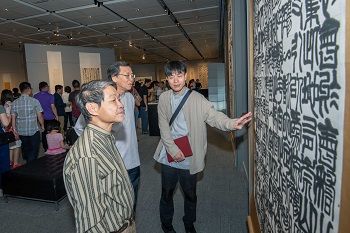 Calligraphy has been appreciated as an art form in various cultures throughout the entire world. Since ancient times, the Chinese people has made it a custom to present calligraphic works to friends as gifts and sign of mutual respect.
Having met and studied together at China Academy of Art in Hangzhou in the 1990s, five calligraphers namely Low Cheong Sin, Wang Xingyi, Lu Dadong, Tang Kaizhi and Shen Leping, came together again to exhibit their works in a joint exhibition entitled "Dancing Universe – Five Calligraphers from China Academy of Art" from May 19 to June 3, 2018. Held at the Hong Wen Exhibition Hall, Wisma Kebudayaan SGM, they displayed around one hundred calligraphic works and seal carvings.
On hand to officiate the opening ceremony on May 20 was Wong Ho,president of the Calligraphy Society of Malaysia. Distinguished guests attending the ceremony included YBhg Dato' Seri Kee Yong Wee and Dr Wong Kum Peng, advisers of the Calligraphy Society of Malaysia, and prominent artists Cheah Yew Saik, Yap Hong Ngee and Tan Gian Seng.
The opening ceremony started with a calligraphic demonstration by calligrapher Lu Dadong, presenting the beauty of calligraphic art with his dynamic and dancing strokes in a solemn atmosphere. SGM then gave a presentation on "Daisaku Ikeda and China", depicting the efforts and contributions of SGI President Ikeda in building a golden bridge of friendship with the people of China.
| | |
| --- | --- |
| | |
| Calligraphic demonstration by calligrapher Lu Dadong | Art talk by calligrapher Lu Dadong |
| | |
The number of artists in this collaboration also carried additional significance in that the Chinese character "five" which originally means the intersection of Yin and Yang between heaven and earth besides the coexistence of the Five Elements: water, fire, wood, metal and soil. As Yin and Yang and these elements are always intertwining, "five" also refers to the intertwining on the five calligraphic forms: zhuan (seal script), li (clerical script), kai (regular script), xing (running script) and cao (cursive script).
In his welcoming speech, SGM General Director Mr Koh Sia Feai praised the calligraphers for making the efforts to travel from afar not only for the exhibition but also to foster friendship and promote art exchange.
In his speech, artist and curator Low Cheong Sin, who is Malaysian, shared his experience of studying at the China Academy of Art. Possessing a strong passion and love for calligraphy, he made a determination to share what he had learnt to all art lovers in Malaysia. Although he had organised numerous art exhibitions, this was the first time his own works were being exhibited.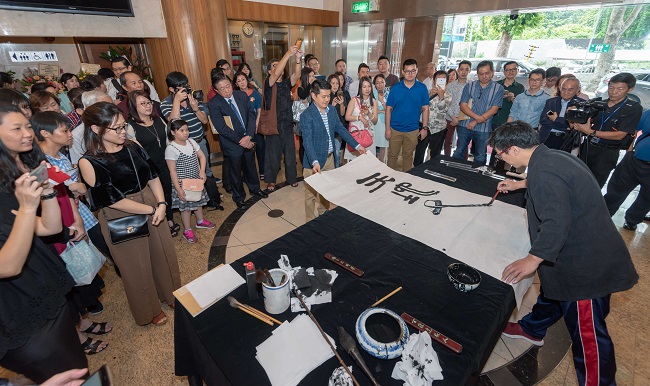 Calligraphy demonstration
In his speech, Mr Wong Ho praised the efforts of the artists who were always trying to innovate and break new grounds. By infusing elements of modern art into the traditional art of calligraphy, they create new aesthetic vistas that delight viewers.
An art talk was also held, with Lu Dadong speaking on the current scene of calligraphy in China and on how to revitalise and popularise the art form in modern society. Following this, another calligraphy demonstration was held with the five artists displaying their skills and creating a "dancing universe."