On September 20, 2020, SGM held an online peace proposal webinar entitled Environmental and Climate Change with three honoured speakers, moderated by Assoc Prof Dr Wendy Yee Mei Tien, Director of the Centre for Internship Training and Academic Enrichment (CITrA). The speakers were Prof Dr Sumiani Yusoff, Director of the Institute of Ocean and Earth Sciences, University of Malaya (UM), Mr Benjamin Ong Jia Ming, Head of Exploration at United Nations Development Programme (UNDP) Malaysia's Accelerator Lab and Ms Tan Cai May, an adviser and former media lead the Malaysian Youth Delegation (MYD). About 2,800 viewers were recorded.
The discussion in this webinar was inspired by ideas on combating climate change as discussed in SGI President Daisaku Ikeda's peace proposals.
Starting the session, Dr Yee elaborated on the background of climate change, sometimes comparing the COVID-19 pandemic to the issues of climate change which impact the whole world, but, sadly, were not given the same attention and concern.
| | |
| --- | --- |
| | |
| Dr Wendy Yee | Mr Benjamin Ong |
| | |
To tackle the problem of climate change, Benjamin introduced how the UNDP is founded and how it works with governments to address social and environmental issues. He talked about the triple bottom line, an accounting framework made up of the environment, society and economy. If one of the parts is over-emphasised, imbalances will be created, followed by more problems. Besides that, he further pointed out that, due to how complex the world has become, individual efforts are inadequate to change the world. The whole aim is to scale up the actions to the public no matter who they are, increasing everyone's awareness on the matter.
Next, Prof Sumiani listed some events UM had done in the past few years to help solve the problems due to climate change. According to her, solving such problems is a collective support and cannot be done in a short time. Under her leadership, UM's initiatives such as the UM Eco-Campus Secretariat and UM Living Labs have actually coordinated and implemented various activities such as zero waste campaign and effective waste management. The aim of carrying out these activities is to educate the future generation to be more mindful and responsible.
| | |
| --- | --- |
| | |
| Prof Dr Sumiani | Ms Tan |
| | |
Lastly, from the US, Tan Cai May spoke on "Youth and the Future of Climate Change" and reported on a research she had done in 2018, involving youths from around the world. Surprisingly, the research revealed that most of the youths interviewed could currently feel the effects of climate change and that young people can make a difference on climate change.
She then stressed that youth are the key to solving the challenge of climate change and they should advocate intergenerational equity which brings about fairness and believe that justice still exists.
In conclusion, climate change needs to be further emphasised to everyone as each of us has the responsibility to solve the related problems. With hope, all of us can surely make a change for the better.
Watch this webinar: https://www.youtube.com/watch?v=MwNXT2_HzaU
Furthermore, in conjunction with the International Day for the Total Elimination of Nuclear Weapons established by the United Nations (UN) on September 26, SGM also held an online peace proposal webinar themed "Nuclear Disarmament" with some 4,400 people participating.
| | |
| --- | --- |
| | |
| Tan Sri Dato' Dzulkifli Abdul Razak | Tan Sri Razali Ismail |
| | |
| | |
| Tan Leng | Dato' Dr Christopher Boey |
| | |
Based on the ideal of peace and mutuality mentioned in SGI President Daisaku Ikeda's 2020 Peace Proposal, three guest speakers were invited to talk on how to advance towards a world without nuclear weapons.
In his speech, International Islamic University Malaysia (IIUM) Rector Emeritus Professor Tan Sri Dato' Dzulkifli Abdul Razak first talked about his father's experience during the Hiroshima atomic bombing tragedy. He urged the younger generations to deepen their understanding of the importance of abolishing nuclear weapons. His late father, Datuk Abdul Razak Abdul Hamid, is Malaysia's only hibakusha.
He also stressed that people should form strong connections with each other regardless of nationality and language barrier when coming together to resolve global issues such as preventing the spread of coronavirus and climate changes. He hopes that youth will take the initiative in expanding the network of peace.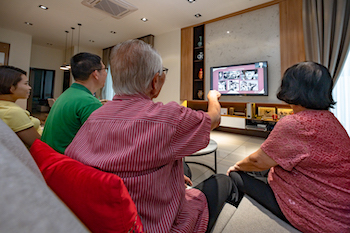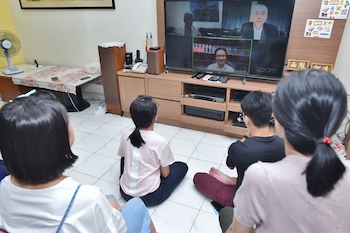 Next, the second speaker Tan Sri Razali Ismail, acting president of the United Nations Association of Malaysia (UNAM) and former SUHAKAM chairman, discussed in depth about the current situation and power possessed by countries with nuclear weapons. He further stressed on the importance of the people's network in confronting these issues.
He then talked about setting a good role model for the youth and strongly believed that humanity has what it takes to achieve it. Later, Tan Leng, an advocate and solicitor of the High Court of Malaya, analysed the setbacks of current international law in abolishing nuclear weapons and emphasised the urgent need for Treaty on the Prohibition of Nuclear Weapons (TPNW) to come into force.
Lastly, moderator Prof Dato' Dr Christopher Boey, professor at the Faculty of Medicine, University of Malaya (UM), concluded that it is crucial to have capable young successors, and that a single person has the power to spread a network of positivity.
Watch this webinar: https://www.youtube.com/watch?v=8zMLN1N4Vbo