On June 7, 80 women's division (WD) and young women's division (YWD) central leaders gathered online to commemorate June 4 Ikeda Kayo-kai and June 10 Women's Division Day (which this year marked the women's division's 70th founding anniversary). They held a Soka Women Successors Meeting themed "Young Women and Women Advancing Hand-in-Hand towards the Shared Vow of 2030."
In his encouragement, SGM General Director Koh Sia Feai stated that in the decade towards 2030, the two divisions should focus on the dignity of life and achieving human revolution, while striving to build a new civilisation. He stressed on the significance of working "hand-in-hand" and urged them to advance together and become the main forces in establishing an eternal SGM.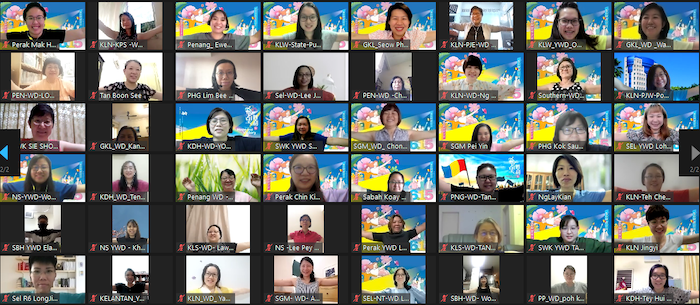 Elaine Chia Fui Yee from the YWD and Tan Set Nee from the WD shared their recent struggles with illness. Besides cheering for them, the participants also actively shared their resolutions. Among them, SGM YWD leader Lee Kam Yit vowed to ensure the Kayo-kai always advance forward.
SGM WD general leader Ow Yin Peng encouraged the participants to always remember their vows, spread hope with a bright smile, support and help each other to grow, and build stronger bonds of friendship.