In conjunction with the 45th anniversary of the establishment of diplomatic relations between China and Malaysia, and to inspire younger generations, SGM organised the "Pioneering Calligraphy Exhibition by First Generation Chinese Artists" at Wisma Kebudayaan SGM (WKSGM) from October 5 to 20, 2019.
On October 5, the opening ceremony was held at WKSGM's auditorium. This exhibition showcased 88 calligraphic works by 35 Malaysian and Singaporean artists of Chinese ancestry, including Tsue Ta Tee, Kong Xiang Tai, Sim Mow Yu, Venerable Zhu Mo, Venerable Bo Yuan, Yiu Hong, Chu Chee Chuan, Chiou Sin Min, Li Xiu Tian, Pan Shou, Wang Sui Pick, Chen Lei Shi, Shen Tin, Huang Yun Yo, Chow Man Sha, Ren Yunong and Huang Yao. Most of these have passed on, with some of them having been born in the late 19th century, and some made their way to our shores from China.
In his welcoming remarks, SGM General Director Koh Sia Feai stated that this exhibition not only exhibited the artworks of the pioneers but was also held to inspire and encourage the younger generation to spread traditional Chinese culture in Malaysia. He believed that cultural exchange among countries is the bridge that connects people's hearts, which will further strengthen the relationship between countries. He expressed hopes for SGM to continue contributing to cordial ties between China and Malaysia.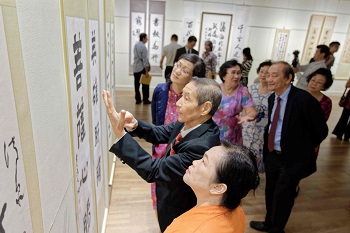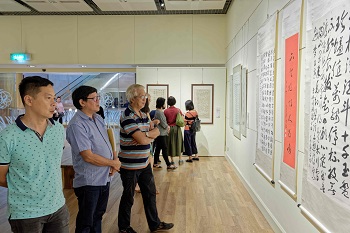 Later in her speech, the guest-of-honour Mdm Liu Dongyuan, counsellor for consular affairs of the Embassy of the People's Republic of China in Malaysia mentioned that exchanges adds vibrance to culture, and Malaysian Chinese culture had been preserved due to the Malaysia's multiculturalism. She was glad to see that the efforts of the pioneers continue to take root and be transmitted. Next year, 2020, has been designated China-Malaysia Culture Tourism Year, and she hopes to see more cultural exchanges between our two countries.
Following the opening, renowned Chaozhou (Teochew) gongfu tea brewers from Penang and Kuala Lumpur demonstrated the art of brewing gongfu tea outside the auditorium. Gongfu tea (meaning skilful method of brewing tea), is a traditional method of brewing tea.
Over 1,600 people viewed this exhibition.