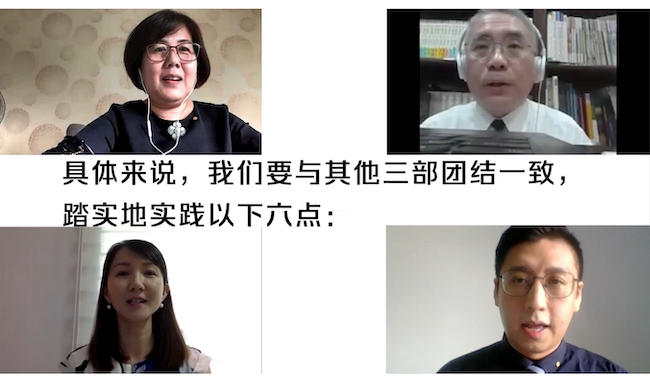 Report by respective division chief (from top left WD May Chan, top right MD Dr Boey, bottom right YMD Tan Jun Kong and bottom left YWD Madgelyn Choo)
On May 31, 2020, some 800 central SGM leaders from around the country gathered online for the fourth SGM Headquarters Leaders Conference cum May 3 Soka Gakkai Day Meeting.
In her speech, SGM women's division (WD) leader May Chan announced the new structure of the SGM Golden Age group. Later, SGM General Director Koh Sia Feai reported on SGM's progress and activities in the first half of the year, which included construction of various buildings and development of the Malaysian kosen-rufu movement.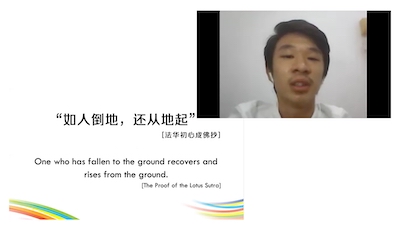 HSD member Andrew Ng kai Yong
SGM men's division (MD) leader Dr Christopher Boey, May Chan, young men's division (YMD) leader Tan Jun Kong and young women's division (YWD) leader Magdelyn Choo also reported on the activities of each respective division and announced their plans for the second half of the year.
Using the new Soka Gakkai song "Step Forward," Greater KL Dove Dance Group presented a dance to the participants. A recording of high school division members singing "Ode to Joy" in German was also shown.
Negeri Sembilan high school division (HSD) member Andrew Ng Kai Yong shared with participants how he had improved his relationship with his family members through chanting abundant daimoku, and spoke on his determination to strive towards his next goal which is to improve his academic results.
Later, Mr Koh encouraged the participants to take good care of themselves and the members under their care during this difficult period in which the COVID-19 was widespread around the globe, impacting everyone's life. Besides this, they should also continue striving to introduce people to Nichiren Buddhism and make financial contributions for the sake of kosen-rufu, all the while chanting abundant daimoku to challenge all obstacles in their lives and gain victory.
Youth representatives from the six areas also shared their determination to stir waves of shakubuku and foster successors, encouraging all participants to advance in accord with the kosen-rufu movement of Malaysia.