July 11 is the founding day of the Soka Gakkai young men's division (YMD). Advancing towards the 70th anniversary of its establishment next year and to foster the vanguards of kosen-rufu while expanding the solidarity of shakubuku (sharing Buddhism with others), SGM held a live-broadcast commemorative meeting through YouTube.
SGI President Ikeda sent a congratulatory message that was read out during the meeting. He urged the members to expand their network of friendship and trust by transcending all differences while "powerfully resounding the bell of advancement for the realisation of worldwide kosen-rufu and the ideals of establishing the correct teaching for the peace of the land." With the "strategy of the Lotus Sutra," "courage of a lion king" and "unity of many in body, one in mind," one can break through and win over any obstacles while encouraging one another.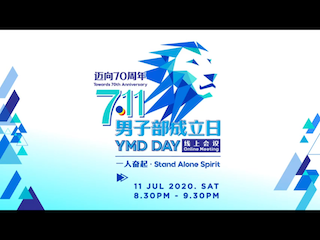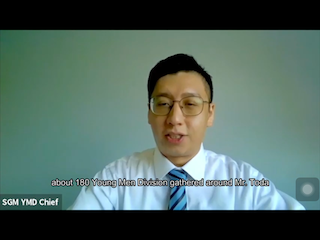 Next, in his speech, SGM YMD leader Tan Jun Kong introduced the significance of the YMD formation day and stand-alone spirit. He said that President Ikeda has stood up resolutely and took the initiative without waiting for someone else whenever his mentor asked the disciples to advance kosen-rufu. He also said that although one may be facing great obstacles right now, when each of us has overcome ourselves, it will surely bring about great development in the society and the world. He urged the members to build a solid culture of introducing people to Nichiren Buddhism that can be passed on from generation to generation.
A video showing the efforts of the YMD in the shakubuku movement during the Movement Control Order (MCO) was also played. Later, five YMD members from Selangor, Sarawak, Penang and Greater Kuala Lumpur shared their experiences and resolution for shakubuku. All of them were able to feel the power of daimoku in successfully spreading Nichiren Buddhism to people around them. They were determined to foster more capable people to promote kosen-rufu to repay their debt of gratitude to their mentor.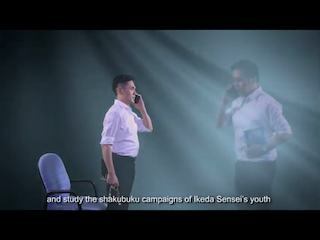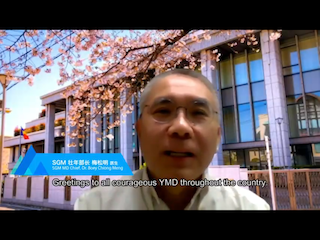 Finally, SGM men's division leader Dr Christopher Boey encouraged the members to practise the five points of shakubuku in order to achieve SGM's goal of 5,000 Professors of Happiness (PoH) for 2020. He also shared three waka poems written by President Ikeda, urging the members to spread the revitalising power of the Mystic Law widely to everyone and to stay hopeful no matter what.
With the motto "Take the Lead, Achieve Victory!", YMD members were determined to strive for shakubuku with the stand-alone spirit and achieve SGM's shakubuku goal by November 18 this year.